Section Branding
Header Content
Sensing Soil To Improve Watering
Primary Content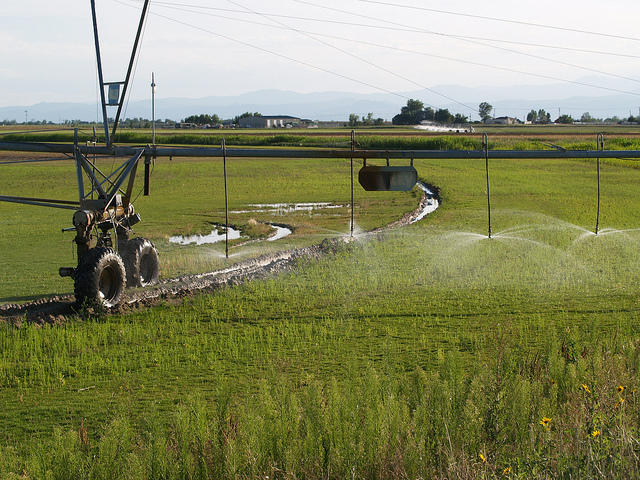 Researchers are planting about a hundred sensors on 10 farms in southwest Georgia this month to measure soil moisture. The idea is to better track how much water crops really need and help farmers irrigate more efficiently, and help the farms reduce their impact on the strained Flint River.
University of Georgia scientists are working with the Nature Conservancy and other groups to place the sensors in corn, cotton and peanut fields. They're buried and have a flexible antenna so they can transmit data but tractors can still roll right over them.
The project is designed to help farmers decide how to best use their center-pivot irrigation systems in what is one of Georgia's most stressed river basins.
Irrigation systems can already give different amounts of water based on the different types of soil throughout the field. But the sensors' data will account for rainfall and how the crops are growing in real time.
"Some of these pivots take multiple days to walk around the entire field, and so a rain event during that time might occur," said David Reckford, director of the Flint River Basin Partnership. "The soil moisture probes in the field would pick up that event and could effectively tell the [variable-rate irrigation] system to shut down the pivot."
Right now, the sensors' data will be collected on a web site farmers can use to decide where their center-pivot irrigation systems need to water. But that can be time-consuming.
"These people are very, very busy people during the growing season and they really don't have much time to sit in front of a computer and look at 30 different fields, if they have that many," said George Vellidis, a UGA agricultural engineer. "Some of them have 30 fields, some of them have 50 fields that they're irrigating simultaneously all summer."
So researchers hope to eventually automate that process.
"We haven't come to the point where we actually link control of the pivot to the sensor data. That's our ultimate goal so that it can be a completely automated system," Vellidis said. "When the pivot comes on, it knows what to do based on the data that are coming in."
IBM is building the interface to access the data, and eventually, a computer also will provide an irrigation recommendation, rather than farmers having to interpret the data.
Vellidis said they want to make the system as easy to use and implement as possible so farmers will use it.
For this project, sensors have been deployed on about half of the 10 farms so far and the rest should be done in the coming weeks.
Tags: soil, farming, Georgia Farms, Georgia Farming, farms, center-pivot irrigation, soil sensors, soil moisture, George Vellidis, David Reckford
Bottom Content