Section Branding
Header Content
Sweet Auburn Endangered
Primary Content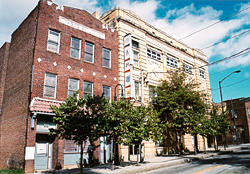 The National Trust for Historic Preservation has named the Sweet Auburn Historic District in Atlanta to its list of America's 11 Most Endangered Historic Places.
Fortune Magazine dubbed Auburn Avenue's commercial district 'The richest Negro street in the world' in 1957. But it spiraled into decline in the 1980's.
It's the area where Martin Luther King Jr. was born, where the Southern Christian Leadership Council began, and where the African-American community thrived despite the Jim Crow south.
Mtamanika Youngblood with Sustainable Neighborhood Development Strategies says 600 thousand visitors come to the King Center each year.
She's hoping the public will get behind efforts to revitalize the area.
"Create a really viable economic development strategy that builds on the unique character, legacy and history of Sweet Auburn, but also makes it an attractive place to want to come and visit and spend money."
The area was also put on the list of Most Endangered Historic Places in 1992, and that led to the residential section being revitalized.
Tags: Martin Luther King Jr., National Trust for Historic Preservation, Sweet Auburn Historic District, America's 11 Most Endangered Historic Places, Mtamanika Youngblood, Sustainable Neighborhood Development Strategies, Southern Christian Leadership Council
Bottom Content