Section Branding
Header Content
More Foreclosure Sales in Georgia
Primary Content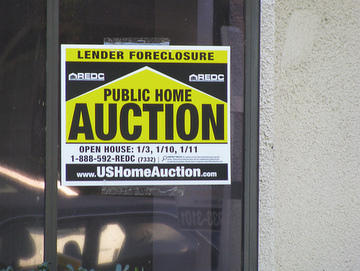 Sales of foreclosed homes accounted for nearly half of all home sales in Georgia during the first three months of the year. That's according to a report that found foreclosures are on the rise following a moratorium last year.
Georgia ranked third among the 50 states during the first quarter for percentage of homes sold where the owners had defaulted on the properties.
The number of so-called short sales also rose, soaring 80 percent. Such sales involve properties in danger of foreclosure that homeowners sell for less than they owe on the mortgage.
Daren Blomquist is with RealtyTrac, which published the report. He says the foreclosure and short sales had been on hold but have been on the rise since the nation's top banks settled with federal authorities over allegations of robo-signing and other types of foreclosure fraud.
"We're seeing that in other states as well, although not as dramatic as Georgia," he said. "What we saw last year was an artificial slowdown because the lenders were being questioned about whether they were foreclosing property and that really led them to slow how quickly they were selling the foreclosures."
He says short sales allow homeowners to move on but have a down side.
"These short sales are typically selling below what non-distressed properties are selling for so they are dragging down home prices," he said in an interview. "In Georgia we see the average price of a short sale was 30 percent below the price of a non-distressed property."
Tags: foreclosures, RealtyTrac, foreclosure fraud, short sales
Bottom Content