Section Branding
Header Content
Georgia Beach Bans Dogs On Summer Days
Primary Content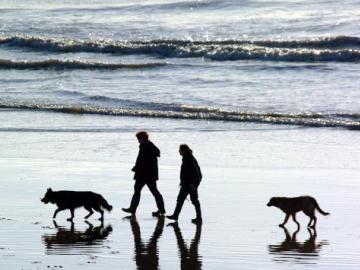 Saturday marks the unofficial beginning of summer and the start of some new rules for dog lovers on Georgia's coast.
The changes will impact dog owners on St. Simons Island.
Glynn County officials are banning dogs on the beach this summer when the surf is most popular -- in the day.
Dog owners still can go beach-walking with their dogs before 9am and after 6pm.
St. Simons Island resident Sandy Gamble says, she takes her bulldog Stewie for daily evening walks in the sand.
"That's the only time that I can go, so I'm okay with that," Gamble says. "If other people go during the day when they have time, then I suppose it imposes on them."
County officials also changed the leash rules on St. Simons Island.
They're giving dog owners the discretion to unleash their dogs and let them roam free in the mornings and evenings.
Only unruly dogs have to be leashed.
Dog owners can be ticketed if their dogs are not under their voice command.
Area resident Susan Corn Wainright says, her dogs Boo, Mattie and Gracie love to chase tennis balls -- something they can't do on a leash.
"When we go out on the beach, they don't even notice anybody, any other dog or whatever," Wainright says. "They're focused on this game that they're playing. It really is the owner's responsibility. If they have a dog that's iffy, then you put your dog on a leash."
The changes go into effect Saturday and apply through Labor Day.
County officials say, they made the change to simplify the rules and protect public health and safety.
Georgia beach rules vary for dogs.
Savannah-area residents unsuccessfully lobbied Tybee Island authorities to lift the beach's total dog ban two years ago.
Georgia Department of Natural Resources officials ban dogs on state-controlled barrier islands.
Cumberland Island National Seashore allows dogs but you can't take them on the ferry.
Car-accessible Sea Island isn't included in the Glynn County ban, but it's a private, gated community.
The changes makes Jekyll Island's north beach the state's only car-accessible public beach with all-day, all-year dog access.
Tags: Savannah, Glynn County, Jekyll Island, beach, summer, Department of Natural Resources, Georgia Department of Natural Resources, Tybee Island, Cumberland Island, dogs, St. Simons Island, Cumberland Island National Seashore, GPB News, Sea Island, Memorial Day, Atlantic beaches, orlando montoya, Georgia Dept. of Natural Resources, St. Simons, Susan Corn Wainright, Sandy Gamble, Labor Day
Bottom Content