Section Branding
Header Content
Port Project Would Get Fish Around Dam
Primary Content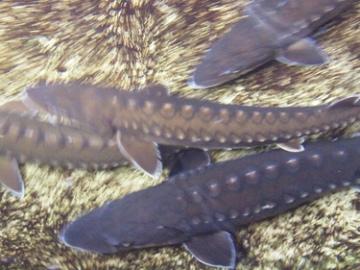 Fish could find new spawning grounds above an Augusta dam once work begins on the Savannah harbor deepening.
A $32 million "fishway" is part of environmental mitigation efforts in the massive port-related proposal.
That's because deepening Savannah's harbor to serve larger ships would hurt habitat for two species of endangered fish and US Army Corps of Engineers officials have to make up for the loss somewhere else.
But the US Fish and Wildlife Service's David Bernhardt says, there's nowhere on the Savannah River the endangered shortnosed sturgeon can breed below Augusta's New Savannah River Bluff Lock and Dam.
"We think that the amount of breeding habitat for them below the dam is very, very small," Bernhardt says. "And so, providing access above the dam opens up huge amounts of higher quality spawning habitat."
Officials propose building a short river around the dam.
But Savannah Riverkeeper Tonia Bonitatibus isn't convinced the endangered fish would benefit from it.
"Once they get around that fish ladder, even if they were able to, the water coming out of the dam is so cold that it's probably not going to be conducive for them to spawn anyway," Bonitatibus says.
US Fish and Wildlife officials say, the plan is the best they have for mitigating the habitat loss.
US Army Corps of Engineers officials can't remove the dam since Congress authorized it.
Corps officials are soliciting public comments on the $600 million proposed deepening through June fifth.
Tags: Augusta, Savannah, U.S. Fish and Wildlife Service, Savannah River, U.S. Army Corps of Engineers, National Fish and Wildlife Service, US Army Corps of Engineers, Army Corps of Engineers, Savannah Harbor, Savannah Riverkeeper, GPB News, Tonia Bonitatibus, orlando montoya, United States Fish and Wildlife Service, harbor deepening, Savannah Harbor deepening, Savannah Harbor Deepening project, The U.S. Army Corps of Engineers, David Bernhardt, New Savannah River Bluff Lock and Dam
Bottom Content