Section Branding
Header Content
Monday Baseball Quarterfinals Roundup
Primary Content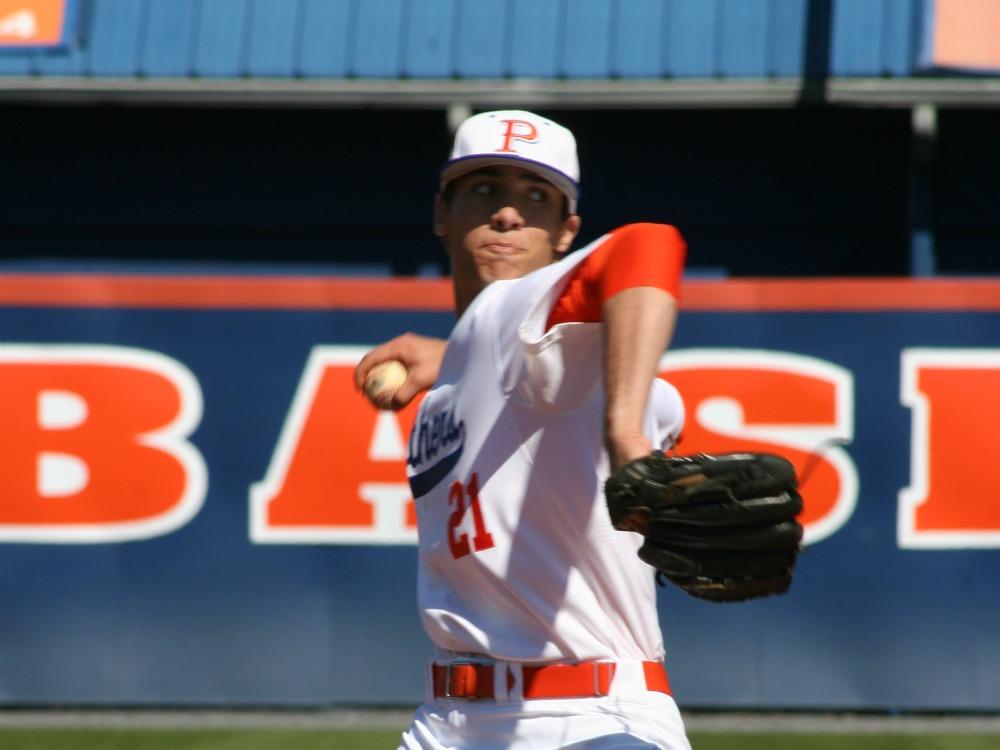 The baseball semifinals series began Monday night, and all 10 matchups played through at least Game 1 on a stormy night in many parts of the state. While some series ended in two-game sweeps, most will be decided tomorrow.
In a Class AAAAA semifinals series, Parkview beat Mill Creek 5-4 after Jack Esmonde's infield single scored Michael Craig for the game-winning run in the bottom of the seventh. Josh Hart has scored on the previous at-bat after a passed ball to tie the game.
Esmonde also got the win out of the bullpen after throwing 2 2/3 scoreless innings. Matt Olson started the game and went 4 1/3 innings with eight strikeouts. At the plate, Esmonde was 3-for-4, while Olson was 2-for-2 with two RBIs and Josh Hart was 2-for-3 with two runs.
A single by Nick Tillman and back-to-back homers by Tyler Boldt and Jesse Thomas had put Mill Creek ahead 4-3 in the fifth inning.
Game 2 was postponed and will be played tomorrow at 4 p.m.
Class AAAA
Greenbrier 6-5, Whitewater 4-8: Whitewater jumped out to an early lead in Game 1 with home runs from Alex Liquori and Daniel Amos, but the Wolf Pack offense rallied to put six on the board. In the second game, Whitewater's Taylor Turner crushed a two-run home run for the visitors.
Johns Creek 7, Loganville 2: In Game 1 pitcher Matt Gorst threw a complete game, striking out five with two earned runs. Dylan Dore led off the game with a homer for the visiting Gladiators. Game 2 was postponed and will be played Tuesday at 2 p.m.
Class AAA
Columbus 9-1, Troup 0-5: The visiting Blue Devils won Game 1 behind the pitching of starter Kyle Carter, who tossed a complete game. In Game 2, junior outfielder Dalton Hadley homered in the fourth to give Troup a 3-0 lead. Jackson Oliver had an RBI single for the Tigers and Garret McClurg threw a complete game three-hitter to earn the win.
Ringgold 4-2, Gainesville 3-12: Corey Kafka tossed a complete game with nine strikeouts for the visiting Tigers in Game 1. David Gonzalez also pitched a complete game, but in a losing effort. Gainesville rebounded in Game 2 as Stephen Mason launched a grand slam to start the onslaught.
Class AA
Appling County 11-12, Brantley County 1-6: Byron Buxton struck out 11 in five innings of work to get the win in Game 1. In Game 2, Buxton had a three-run triple and closed out the game in relief to clinch the Pirates' first-ever trip to the state finals.
Lovett 0-7, Pierce County 8-5: Bears pitcher Will Lowman tossed a no-hitter, striking out eight to lead Pierce County to a Game 1 victory. In the second game, Lovett's Sean Reagan was 2-for-2 with two runs and Robbie Blair's two RBIs and two runs. Lovett held off a late rally to force a Game 3.
Class A
Charlton County 2-9, George Walton Academy 10-3: Kyle Leach pitched a complete game in the opener for the visiting Bulldogs. Hunter Rice and Ben Parr each had two RBIs for the Bulldogs. In Game 2, Scott Beasley got the win with a complete game.
Providence Christian 11, Savannah Christian 5: The Stars took Game 1 behind Austin Loyd's four runs and Austin Golden's four RBIs. Luke Henderson picked up the victory. Erik Davis hit a three-run home run for visiting Savannah Christian. Game 2 was postponed and will be played Tuesday at 1 p.m.
Tags: GHSA, Columbus, Appling County, troup, baseball, Pierce County, Ringgold, Charlton County, Gainesville, whitewater, Brantley County, Lovett, Mill Creek, parkview, Greenbrier, Byron Buxton, GWA, PCA
Bottom Content