Section Branding
Header Content
Tall Ships Dock At Savannah Waterfront
Primary Content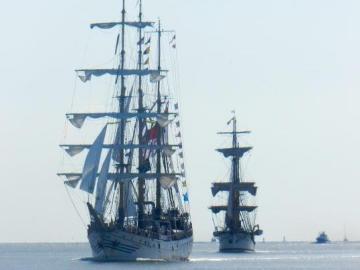 About 11 of the 14 tall ships calling on Savannah this weekend are docked along the city's waterfront.
The event is attracting thousands of visitors but presents a unique challenge for the working harbor.
The festival brings majestic wind-powered ships to the historic harbor for the first time in any large number in 15 years.
Organizers at first wanted the ships to line up and sail into port together Thursday.
But the Georgia Ports Authority urged a date change for the "Parade of Sail" since Thursday is busy for shipping.
Coast Guard Liuetenant Marvin Kimmel says, they'll now line up and parade out of Savannah.
"There's been a lot of advance notice so all the shipping lines and everyone should have made ample considerations and scheduled around that window," Lt. Kimmel says. "It's at the most a four hour window on Monday afternoon."
The Coast Guard's Eagle, HMS Bounty and the Pride of Baltimore are among the ships arrived or coming.
John Heslep of Viriginia was on River Street taking pictures of two French ships, the Etoile and La Belle Poule.
"It kind of makes you think back to days when Savannah was originally founded," Heslep says. "You think about the ships that came in then and what the folks went through to get through to get here back in the 1700's and 1800's, the hardships they endured. It makes our traffic seem inconsequential now."
Tourism officials expect about 60,000 visitors at the event through Monday
Tags: Savannah, Savannah River, Georgia Ports Authority, GPB News, Port of Savannah, River Street, Coast Guard, orlando montoya, VisitSavannah, Tall Ships Challenge, Marvin Kimmel
Bottom Content