Section Branding
Header Content
Harbor Debate Enters New Stage
Primary Content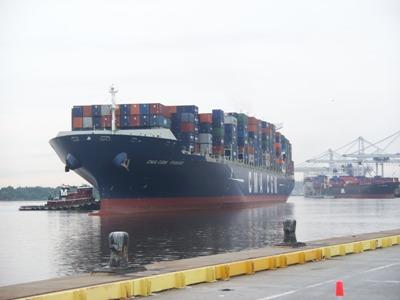 Although US Army Corps of Engineers officials released their final word on Savannah harbor deepening this week, it won't be the last in the vigorous debate over the project's merits.
The agency next week will open up a 30-day comment period, giving the public a chance to weigh in.
Georgia's top business and political leaders line up universally in favor of the project, saying it will create jobs.
US Senator Johnny Isakson addressed reporters following a visit to an economics class at Armstrong Atlantic State University in Savannah Thursday.
"With the expansion, you'll be able to take the larger Panamax ships," Isakson says. "The port's already responsible for 295,000 jobs directly or indirectly in Georgia. It'll be a lot more than that with the deepening."
But critics like Savannah Riverkeeper Tonya Bonitatibus question the jobs claim.
The engineers' own report says, Savannah's port will grow at the same rate with or without the $650 million project.
"The economic analysis shows that whether they deepen or not, they will grow at the same rate," Bonitatibus says. "And when you're talking about such a vast investment of funds, is this really how we should be spending taxpayer money, to do a project where the environmental negatives are so huge?"
Nearly half the project's cost will come from fixing the environmental damage it will cause.
Steve Willis of the Sierra Club plans to write in that a deeper harbor will harm the environment.
"The Savannah harbor deepening project is extremely damaging," Willis says. "That's why they've had to put nearly half the project money to mitigate the damage they're going to do."
Supporters, however, include a "who's who" of Georgia business and political leaders.
A Georgia Ports Authority press release Wednesday included quotes from 40 people, including representatives of the state's largest employers.
"Global shippers, such as retailers and manufacturers, will migrate to the most efficient and expedient options as a matter of necessity," says Home Depot's Mark Holifield, the Atlanta-based global company's Senior Vice President for Supply Chain. "The Savannah port expansion is absolutely critical for Georgia to maintain its standing as one of the world's most important shipping corridors in the years to come."
The engineers' report says, the project will provide $174 million in annual net benefits to the nation.
After these and other arguments go in the public record by May 20th, it'll be up to four Obama administration cabinet appointees to give the government's final approval or denial, called a Record of Decision.
U.S. Army Corps of Engineers officials expect that decision by November.
Tags: Savannah, Johnny Isakson, Savannah River, U.S. Army Corps of Engineers, Home Depot, US Army Corps of Engineers, Georgia Ports Authority, shipping, Army Corps of Engineers, U.S. Senator Johnny Isakson, Savannah Harbor, Savannah Riverkeeper, GPB News, Senator Johnny Isakson, Port of Savannah, orlando montoya, harbor deepening, Tonya Bonitatibus, Savannah Harbor deepening, Steve Willis, Savannah Harbor Deepening project, deeper harbor, Mark Holifield
Bottom Content