Section Branding
Header Content
Committee Debates Gun Silencer Bill
Primary Content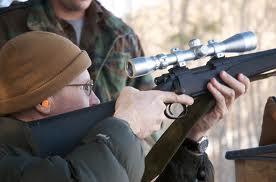 A State House committee heard testimony Tuesday supporting a bill that would lift the ban on hunting with a silencer.
But some are questioning whether the proposed law would make it easier for people to commit a crime or poach animals without getting caught.
The bill's sponsor, Republican Senator John Bulloch, of Ochlocknee, says allowing hunters to use silencers would not only keep them from disturbing their neighbors, they would protect their ears and improve shooting precision.
The gun silencer bill passed unanimously in a Senate committee last week.
Critics worry that allowing hunters to use silencers would make it easier for people to get away with shooting crimes or poaching.
Senator Bulloch responded to those concerns by asking for tougher penalties for poachers:
"I support that you lose your hunting privileges if you poach, period. It doesn't have anything to do with using a suppressor or not. To those of us who are property owners, that's a major issue, people who poach."
The bill would allow hunters to use suppressors on any firearm used for hunting as long as the owner is registered through the federal bureau of Alcohol, Tobacco, Firearms and Explosives.
Tags: hunting, parker wallace, gun silencers
Bottom Content