Section Branding
Header Content
Wolverines boys, girls roll in playoff openers
Primary Content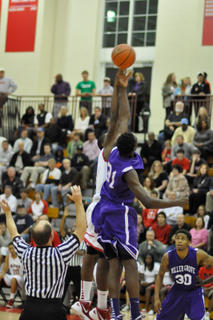 The first round of the Georgia high school basketball playoffs is halfway done after a rousing night of action on Friday.
The highlight of the night may have been Class A No. 1 Calvary Day losing to Greenville 66-64 in a thriller in Savannah. Check our recaps below for more exciting Friday night playoff action.
Miller Grove 83, New Manchester 35: The host Wolverines defeated New Manchester behind their senior leaders on the inside. Power forward/center Tony Parker had 21 points and 12 rebounds, while forward Tony Evans added 17 points and eight rebounds and forward/center Brandon Morris put up 15 points and nine rebounds in the victory. Miller Grove advances to the second round as the Wolverines attempt to win their fourth consecutive Class AAAA state championship.
Class AAAAA
Alpharetta 56, Cherokee 38: The host Lady Raiders had three girls reach double figures. Alexis Alexander led Alpharetta with 18 points, five rebounds and three blocks, while Kylie Smith had 16 points and four assists.
North Forsyth 54, Wheeler 44: The Lady Raiders trailed 23-15 at the half but outscored visiting Wheeler 16-4 in the third quarter to take control. Avery Scarbrough led North Forsyth with 15 points, 10 of which came in the third.
North Gwinnett 67, South Gwinnett 29: The host Lady Bulldogs had three players score in double figures including Lexie Brown, who led North Gwinnett with 18 points, nine assists and seven steals. Peyton Whitted pitched in 13 points and 11 rebounds.
Hillgrove 73, Windsor Forest 53: Senior point guard Celina Rodrigo led the host Lady Hawks to a first-round victory over the Lady Knights with 17 points and nine assists. Meredith Heyer, Marissa Lester and Maisie Steed also reached double figures for Hillgrove.
Mill Creek 65, Brookwood 55: The visiting Lady Hawks grabbed control of the game early and led 33-22 at the half. Jasmin Carter led Mill Creek's effort with 22 points. Tamarra Williams added 14 points for Mill Creek including four from behind the three-point arc.
North Cobb 60, Bradwell Institute 54: The visiting Lady Warriors opened the game with a 10-0 run and never trailed against Bradwell Institute. Guard Amber Reeves scored 23 points and reached 1,000 points for her career, while sophomore guard Taylor Gordon added 20 points for North Cobb.
North Gwinnett 59, Central Gwinnett 52: Guard Chris Bolden finished with a team-high 17 points and added eight rebounds. Center Kwesi Abakah added 13 points, 13 rebounds and four blocks for host North Gwinnett.
Woodstock 53, West Forsyth 32: In a battle of Lady Wolverines, host Woodstock's defense pressured West Forsyth from the tipoff, and grabbed a 34-12 half-time lead. McKenzie Block led Woodstock with 17 points, while Maddie O'Connor led West Forsyth with nine points.
Harrison 43, Beach 25: The visiting Lady Hoyas advanced to the second round of the state playoffs for the first time in school history thanks to a strong night from Alabama signee Nikki Hegstetter. The post player scored 22 points and tallied 14 rebounds.
Parkview 53, Duluth 41: In a battle of Gwinnett rivals, the Lady Panthers needed a six-point run in the game's final four minutes to put visiting Duluth away after trailing 34-32 entering the final period. West Carolina-signee Erika Joseph led Parkview with 16 points.
Westlake 67, Colquitt County 63: In a double overtime contest, the host Lady Lions needed all of guard Aisha Turner's 19 points for the win. With under a minute in the first overtime period, Turner drained a three-pointer and a free throw to rally Westlake.
Class AAAA
Boys
Alcovy 78, Forest Park 65: The visiting Panthers took a four-point halftime lead, but Alcovy stormed back in the second half with a 26-8 run to key the win. Michael Tucker led the Tigers with 28 points. Deondre Butler added 16 points for Alcovy.
Jonesboro 52, Griffin 40: The host Cardinals jumped out to a 24-20 halftime lead and never trailed in the second half. Center Chukedubem Okeke led the way for Jonesboro with 13 points, 10 rebounds and eight blocks.
Lovejoy 63, Fayette Co. 57: The visiting Wildcats shocked Fayette County by storming to a 30-14 half-time lead. Lovejoy maintained the advantage through the second-half behind senior guard Jermaine Hough's game-high 17 points. Dante' Sterling led the Tigers with 14 points.
Girls
Creekview 74, Clarke Central 42: The host Lady Grizzlies used a 26-2 run to run away from Clarke Central in the second quarter. Creekview had four players score in double figures, led by Dee Blankenship's 15 points.
Habersham Central 48, Lambert 33: Haley Gerrin led host Habersham Central with 11 points and 6 rebounds. Two Lady Raiders, Emily Robinson and A.C. Brown, both scored 8 points against visiting Lambert. Teammate Brianna Barrett helped out the home team with 7 points.
Jonesboro 58, Woodland-Henry 39: The host Cardinals dominated on both ends of the floor with Ashley Hand leading the team with 17 points and Kim Dawkins piling up seven blocks. Dawkins also scored six points with 16 rebounds to lead Jonesboro.
Osborne 64, Redan 54: After playing a close game for three quarters, Osborne pulled away in the fourth. Point guard Ebonee Allen had 25 points for hosting Osborne and also went 100 percent from the free-throw line. Small forward Damia Andrews had 18 points for Osborne.
Girls
Forest Park 35, McIntosh 34: The host Panthers trailed by one point with 12 seconds remaining when junior point guard Raven Wynn hit the game-winning lay-up. Senior guard Ashley Cole led Forest Park with 19 points, while Breasia McElrath added 10.
Miller Grove 73, Chapel Hill 45: Junior guard Tashi Thompson led the host Lady Wolverines with a game-high 22 points. Klarissa Weaver and Tabitha Fudge combined for 34 points for Miller Grove. Erica Jones led the Panthers with 15 points.
Class AAA
Columbia 78, LaGrange 52: Columbia took advantage of visiting LaGrange's turnovers to secure a comfortable lead. The Eagles were led by guard Miah Spencer's 18 points. Teammate Victoria Gonzales had 13 points.
Class AA
Buford 90, Kendrick 40: Host Buford was propelled by junior Kaela Davis' 23 points. Teammate Andraya Carter also had a big game for the Lady Wolves, finishing with 17 points.
Greater Atlanta Christian 68, Jordan 40: Forward Brianna Cummings led the host Lady Spartans past visiting Jordan with 24 points. Sophomore guard and teammate Sydni Means had 16 points, while Cici Buford also finished in double figures, contributing 12 points.
Lovett 56, Carver-Columbus 34: The Lady Lions dominated the fourth quarter, outscoring visiting Carver-Columbus 22-10 in the period. Tatianna Jackson scored a game-high 31 points, including 13 in the fourth. Lovett was 13-for-14 from the charity stripe.
Class A
Gordon Lee 52, Pace Academy 50: Trojans center Kaitlin Lee made two free throws with eight seconds left to give host Gordon Lee its margin of victory. The Trojans were led by Lill Bradbury's 17 points and 18 rebounds.
St. Francis 86, Trion 24: Nigia Greene led the host Lady Knights with 24 points, four assists and eight steals. Keyona Hayes added 20 points, seven rebounds, five steals and five blocks, while Nettie Brown scored 14 points for St. Francis.
Wesleyan 83, Paideia 26: The visiting Lady Wolves defeated Paideia behind Jordan Frazier's 21 points, six assists and nine steals. Holli Wilkins added 14 points, while Katie Frerking and Kaelyn Causwell dominated the glass with 10 rebounds each.
Contributors: Sean Conway, Joe Deighton, Robby Kalland, Chris Lionetti
Tags: Colquitt County, beach, Griffin, Jonesboro, Trion, Cherokee, Woodstock, Duluth, Lovett, North Gwinnett, Clarke Central, LaGrange, Brookwood, Hillgrove, Buford, Carver-Columbus, Greater Atlanta Christian, Mill Creek, Harrison, North Cobb, Osborne, Lovejoy, Wheeler, Wesleyan, Miller Grove, Columbia, Bradwell Institute, Redan, Fayette County, pace academy, st. francis, paideia, mcintosh, parkview, Alcovy, Westlake, Central Gwinnett, Chapel Hill, Kendrick, Alpharetta, Jordan, Gordon Lee, Forest Park, creekview, North Forsyth, Lambert, West Forsyth, South Gwinnett, Habersham Central, Windsor Forest, New Manchester
Bottom Content