Section Branding
Header Content
Judge Postpones Execution
Primary Content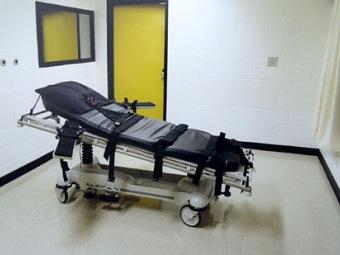 A judge halted the execution of a Georgia man less than an hour before he was set to die for the 2001 murders of a woman and her 3-year-old daughter, acting after the inmate signaled he would file a new round of appeals.
Butts County Superior Court Judge Thomas Wilson postponed Nicholas Cody Tate's execution until further notice about 45 minutes before Tate was scheduled to receive a lethal injection at the state prison in Jackson on Tuesday evening for the murders of Chrissie Williams and her daughter Katelyn. It's unclear how long his execution would be delayed, but it often takes this type of appeal years to work through the court system.
Tate was convicted in 2005 and sentenced to death. He waived his right to appeal at a hearing four years later, saying "you caught me red-handed." Since then, he had refused to challenge his conviction and death sentence through habeas corpus appeals.
Tate appeared to have a change of heart as his execution neared. He agreed late Tuesday to file a habeas appeal, forcing the judge to halt the execution.
Tags: death penalty, execution, stay of execution, executions, Nicholas Cody Tate
Bottom Content