Section Branding
Header Content
Justice Department Approves Redistricting
Primary Content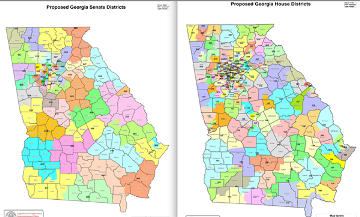 The Obama administration has approved new political boundaries in Georgia despite complaints from state Democrats that the maps dilute minority voting strength.
The Department of Justice approved the maps for Congress, as well as for the state Senate and House, according to Brian Robinson, a spokesman for Gov. Nathan Deal.
The redrawn maps were approved by Georgia legislators in a three-week special session in August and Deal quickly signed them into law.
It is the first time that Georgia Republicans — who now control both chambers of the state Legislature and the governor's mansion — have controlled the redistricting process from start to finish.
Georgia Democrats cried foul, accusing Republicans of playing politics to solidify their hold on state power. It was the same claim Republicans made when Democrats ruled the state and controlled the redrawing of political lines.
The new state House maps create eight additional majority-black districts and set up 10 face-offs between incumbents from the same party. The congressional map adds a fourth majority-black district in southwest Georgia. It also radically redraws the 12th congressional district represented by John Barrow, the last white Democrat in the U.S. House from the Deep South.
Georgia Democrats and their allies counter that by "packing" black voters into districts, they are actually limiting the ability of African-Americans to have more political influence and to form coalitions with others to select a candidate of their choice.
The state's rising population means Georgia gains an additional seat in the U.S. House. Republicans placed that district in the conservative northeast corner of the state, which heavily favors Republicans
Georgia and eight other states — mostly in the South — must receive pre-clearance of any election-related changes under the Voting Rights Act, because of a past history of discrimination.
The state's Democrats have pledged to challenge the boundaries in court, but it's unclear what their next step will be. Democratic leaders did not immediately return calls seeking comment on the decision.
Section 5 of the Voting Rights Act bans covered states and jurisdictions from diminishing black voters' ability to elect the candidate of their choice — saying essentially that once a state has built up minority voting power, it is illegal for the state to reduce that voting power.
Lawmakers must redraw legislative and congressional maps every 10 years to line up political boundaries with new U.S. Census figures. In all, the maps set boundaries for 236 state legislators and 14 U.S. House districts.
Tags: Department of Justice, redistricting, political boundaries, political lines
Bottom Content