Section Branding
Header Content
New Challenge For Election Maps
Primary Content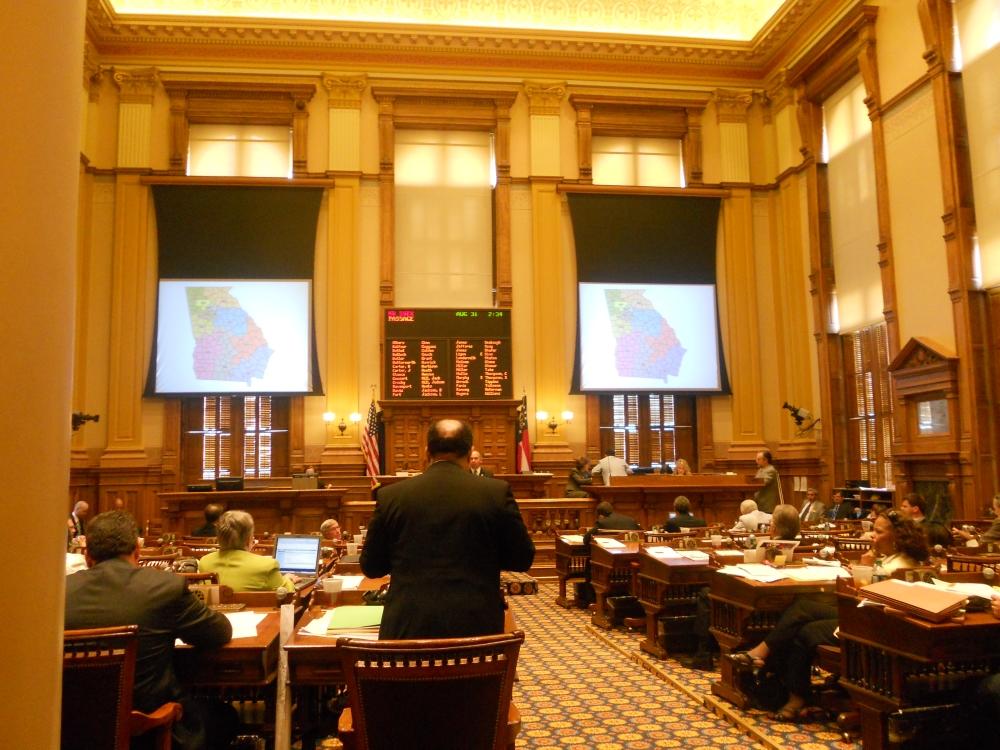 The Georgia Legislative Black Caucus and other groups are asking a federal court to reject Georgia's proposed redistricting maps. The groups say the Republican-authored maps disenfranchise minority voters.
Specifically, the Black Caucus questions Georgia's ability to create fair political districts because it's also challenging the rules on drawing them.
Under the Voting Rights Act, the federal government must approve any changes to Georgia's election maps.
In October, the state filed a lawsuit in federal court seeking approval for the maps. But at the same time it challenged the law that requires it to do so.
State Sen. Emanuel Jones, a Democrat and head of the Black Caucus, says the Republican majority is using redistricting as a political tool to weaken minority electoral strength.
"I'm concerned about minority votes. I'm concerned about dilution of votes. I'm concerned about coalition districts. I'm concerned about all of those things from this power grab by those in power today," he said.
Governor Nathan Deal's spokesman, Brian Robinson, says the maps abide by the Voting Rights Act, but the law is outdated.
He says Georgia is now a magnet for wealthy African-Americans, whom he says "are not coming here for freedom rallies but for opportunity."
"Georgia has made all these strides," he said. "We have repented and we have reformed, and we are still treated as a pariah state by the federal government. It is wrong. It needs to be changed. There may be voting rights problems in this nation but they're not happening in Georgia."
Robinson added that any law that singles out one state is unconstitutional.
Officials expect a decision on the maps from the federal government by Dec. 24. Jones of the Black Caucus recently met with the U.S. Department of Justice, which is interviewing lawmakers as part of its review of the maps. He said he doesn't know how it will rule.
"But based on the questions I was asked and the amount of time it took to ask me those questions -- close to two hours -- I believe there is a genuine amount of concern about how this process unfolded," Jones said.
He says Texas may provide a primer for what should happen in Georgia.
"The courts threw out the maps that the Texas Legislature – again a strong Republican stronghold, very red state – threw out the maps that Texas drew, and a three-judge panel drew the maps for the state of Texas," he said. "And we're hopeful we're going to have similar success in Georgia."
Robinson points out that the Justice Department approved the maps in other states such as Virginia and South Carolina under the same mandates as Georgia.
Redistricting occurs each decade after the census publishes new population data.
Republicans increased the number of majority-minority districts, where African-Americans hold a majority. But Democrats charge that they dismantled so-called cross-over districts where minorities have a strong presence but are not in the majority. In those districts, Democrats say minorities can build multi-racial coalitions that allow them to elect the candidates of their choice.
But Republicans counter that a 2009 U.S. Supreme Court case says states don't have to take into consideration cross-over districts and the voters' ability to elect the candidate of their choice.
Tags: redistricting, the Voting Rights Act, redistricting maps, reapportionment
Bottom Content