Section Branding
Header Content
Abstract Painter Brushes Coast
Primary Content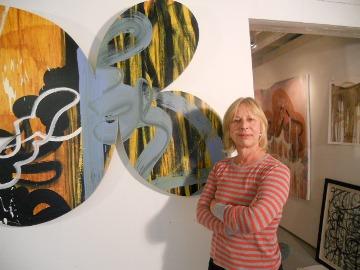 Savannah's Jepson Center for the Arts is honoring one of the city's most well-known and well-respected visual artists with an exhibit of her work.
Abstract painter Betsy Cain marked her third decade in Savannah, this year.
The new show focuses on Cain's strong ties to the coastal city.
But her work isn't exactly beaches, marshes and historic homes.
No, her work doesn't sit like a still, serene landscape.
It swirls, bubbles, drips and taps.
I met the 62-year-old artist at her studio near the historic Bonaventure Cemetery, where she was mixing paint.
She had just starting a painting and was putting a grey base on a canvass.
She said, where the painting goes from there is up to inspiration.
"I'll essentially walk up to a canvass and a make or a form," Cain said. "And that form will direct me."
Cain's is the kind of non-representational art that makes viewers step back and ask, "What is it?"
You might see swooping strokes, scraped colors or streaks of light -- but no recognizable figures.
"For me, that's the intrigue of them," she said. "It's almost like a memory or a resonance of something that you've known but you can't quite conjure up the full image of it."
One set of paintings in her studio might look like gorillas.
Another might look like butterflies.
She often starts a painting by paying attention to the colors and afterimages when she closes her eyes.
"I call them retinal colors or visual cortex colors. And I like to think that they're universal and that we all experience them," she said. "I base palettes on those colors."
Cain started out as a more traditional painter in Alabama.
She moved to Savannah in 1981 and says her move to abstract art years later was to explore thought and memory in her work.
If there's a thought other artists here have about Cain, it's respect.
She volunteers in non-profits, champions environmental issues, and has led art collaborations.
"I like the idea of artists participating in community life," she said "I think artists have a lot to offer."
That community respect helped lead to her first solo exhibit at the Jepson Center, a contemporary art museum that opened in 2006.
It's also her first solo show at any of the Telfair Museums, the historic place for art in Savannah.
Cain's exhibit is called "In Situ" and it's about her sense of place here on the coast.
But the topic doesn't leap out at you.
You have to know, for instance, that several dripping, indigo-colored works speak to the slave-intensive indigo crop that once grew here.
"It's interesting to think about history with a certain color," she said. "And indigo certainly left its mark on the people who help process it."
Looking at one of her abstract works, I have a sense that the painting is weeping.
"Of course, the forms are weeping," she says. "There's a real pull where the forms are draining down. There's a sense of gravity. I see them as a lament."
Cain said, other paintings reference Ossabaw Island, the Gulf oil spill and water.
It could be the water flowing through her eyes or flowing through the place she's called home for three-decades.
Web Extra: To view Besty Cain's art, please visit her website, http://www.betsycain.com/.
The exhibit will remain on display through December 4th. To learn more about it, please vist the Telfair Museums website, http://telfair.org/.
Tags: Savannah, GPB News, art, Betsy Cain
Bottom Content