Section Branding
Header Content
Battle Of Bulldogs Featured On GPB TV
Primary Content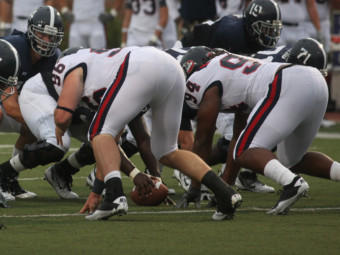 This Saturday's game between Samford and The Citadel will likely come down to which offense can impose its will on the opponent's defense with greater success. In a battle of Bulldogs, Samford loves to score points by the truckload while The Citadel likes to grind the clock with a triple-option attack.
Samford (5-4, 3-4) will look to get its offense righted after being held to just nine points one week ago, well below its average of 31 points per game. The offense begins with Dustin Taliaferro under center. The Roswell (Ga.) High School product passed it 43 times last week for 250 yards. On the year, Taliaferro has thrown for 12 scores and just eight picks while racking up 1,900 yards. The Citadel coach Kevin Higgins called Taliaferro the most improved player in the conference during his Monday press conference. He also said he believes the new offensive scheme fits him perfectly. "They spread the ball out and cause a lot of misdirection," said Higgins.
Kelsey Pope is a popular target for Taliaferro as are Riley Hawkins and Chris Cephus. Pope had 10 catches one week ago for 82 yards. He has 56 catches this year to lead all Samford receivers, to go with five touchdown receptions. Hawkins has 33 catches for 417 yards and a pair of scores. Cephus and Kelvin Clay have each snared three scoring receptions. Fabian Truss leads a rushing attack that churns up yardage in what Higgins calls a "power running game." Truss averages just under 90 yards per game and has rushed for 800 yards. His seven touchdowns lead all backs, though Pope has four scores. Pope has also thrown for a touchdown and is dangerous in the return game.
Kicker Cameron Yaw is a weapon for Samford, and drilled three field goals last week for all nine of the Bulldogs' points. Yaw has connected on 78 percent of his field goal opportunities and is perfect from inside 30 yards.
Defensively, look for Austin Hayes to try and disrupt the initial point of attack while Devyn Keith can also stick his nose into the backfield.
Meanwhile, The Citadel (4-5, 2-5) will look to finish off what it started one week ago in Statesboro when the Bulldogs nearly pulled off a shocker against No. 4 Georgia Southern. The Citadel scored two first-half touchdowns, but had both extra points blocked. Later, The Citadel missed a potential game-winning field goal attempt. The Bulldogs were led by Darien Robinson's 92 rushing yards and quarterback Aaron Miller's 19 carries for 80 yards. Robinson and Miller each scored for The Citadel.
Miller will split time with Ben Dupree under center. This season, Robins and Dupree have each surpassed the 500-yard rushing mark while Robinson has found the end zone eight times to Dupree's six. Miller is right behind both with five scores and 271 yards rushing.
The Citadel's defense can certainly get after it. Three players have double-digit tackles-for-loss numbers with Derek Douglas, Chris Billingslea and Rod Harland all making plays in the backfield. Harland has three sacks, while Douglas leads the team with 3.5. Demarrio Sims also finds his way to the quarterback with regularity.
If the game does come down to kicks, Ryan Sellers has made just 4-of-8 field goals, with all attempts coming from inside 40 yards. Before last Saturday, he was a perfect 27-of-27 on extra points.
This will be the conference finale for each team before both face SEC foes next week. The Citadel travels to meet South Carolina while Samford will visit Auburn.
Tags: South Carolina, Auburn, Georgia Southern, college football, GPB TV, Samford, the Citadel, Southern Conference Game of the week, Roswell High School
Bottom Content