Section Branding
Header Content
Twelve Rivers Make 'Dirty' List
Primary Content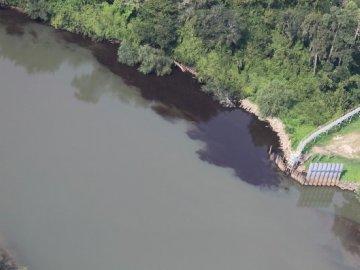 Southeast Georgia's Ogeechee River tops a new list of dirty Georgia waterways.
The Georgia Water Coalition is highlighting a dozen threatened rivers.
A coalition spokeswoman says, a massive fish kill on the Ogeechee in May cinched the river's place at the top.
The nearby Altamaha River is number two.
The Altamaha Riverkeeper's Deborah Sheppard says, that's because of noxious waste from a Rayonier paper mill in Jesup.
"The smell will gag you," Sheppard says. "Any person with a lick of sense would have to say, 'Is this really okay?'"
Sheppard says, the river's color is almost clear just above the mill, but turns unnaturally dark just below it.
"This is just about spending money," Sheppard says. "It's not like they don't know how to clean this up. They absolutely know how to clean this stuff up. The paper industry all over the world is ahead of what's going on here in Georgia."
Rayonier CEO Lee Thomas says, the company has spent millions of dollars to improve the mill's outflow.
"People are concerned about water quality," Thomas says. "We are as well."
Thomas says, the river's color has improved 30% since the company entered into a consent agreement with the state Environmental Protection Division three years ago.
That order gives the company seven years to improve emissions.
"We have planned another $40 million in investments to deal with this issue," Thomas says. "It's a process that's underway and we've made good progress on it."
The Savannah River is on the list because of Savannah's harbor deepening.
The Chattahoochee is on it because of low flow near Atlanta.
The state list is a first of its kind, although a similar national list, from the group American Rivers, has cited Georgia waterways before.
The complete list can be viewed at this website.
Tags: Metro Atlanta, Altamaha River, James Holland, Savannah River, paper plant, Chattahoochee River, Clean Water Act, Savannah Harbor, Jesup, Rayonier, Ogeechee River, pulp, GPB News, Altamaha Riverkeeper, harbor deepening, Ogeechee Riverkeeper, Savannah Harbor deepening, Ogeechee Fish Kill, Ogeechee, Deborah Sheppard, water quality, Lee Thomas
Bottom Content