Section Branding
Header Content
Jobs Available, No One Qualified
Primary Content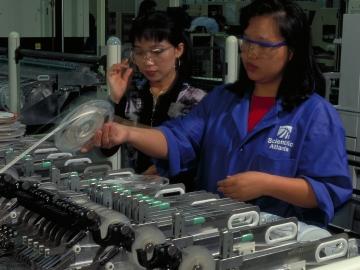 A record number of employers are having a hard time finding workers despite millions on the jobless rolls.
The trouble in the coastal area is especially deep in manufacturing and other sectors requiring skilled labor.
A Manpower Survey found 52% of US employers are having difficulty filling critical positions despite 14 million unemployed.
The survey didn't break down numbers by state or region.
But Savannah area employment is down over the past year despite a relative hiring spree by a few large firms.
Cindy Landolt of the nine county Coastal Workforce Services describes what the area is looking for.
"We are looking for folks with skills that are like machinists, or have experience in logistics management, electricians, warehousing, those types of things," Landolt says.
The problem is, job-seekers lack those skills, forcing employers to slow production or pay overtime to other workers.
And worse, some applicants lack even more basic abilities.
"A lot of the things that have been expressed to us from employers has been a lack of soft skills," Landolt says. "Abilities to communicate and work in a team, work ethic, the understanding that you need to get to work on time and be there the whole day."
Savannah Technical College has responded to the need by ramping up certain training programs.
The government-backed Coastal Workforce Services specializes in matching workers' skills and employers.
In the meantime, many jobs are going unfilled.
Tags: Savannah, manufacturing, workforce, GPB News, manufacturing jobs, Coastal Workforce Services, Cindy Landolt
Bottom Content