Section Branding
Header Content
Cities Regulate 'Sweepstakes Centers'
Primary Content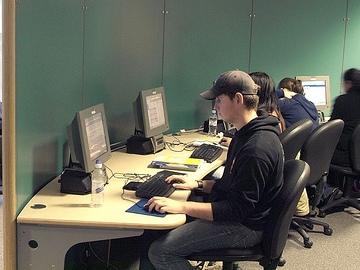 Local communities are taking matters into their own hands to slow the spread of so-called "sweepstakes centers."
Governor Nathan Deal in May vetoed a bill targeting the centers, which officials say, are stealth casinos.
The centers call themselves "internet cafes" but their users earn prizes for playing online games, raising gambling concerns.
When Florida authorities closed down about 80 of them in Jacksonville, one opened up in Georgia's nearby St. Marys.
City planner Roger Weaver says, because Deal vetoed a bill to regulate them, the city had act quickly and on its own.
"We were concerned that by the time the state got a hold of it, it would be so out of control that everybody would be grandfathered," Weaver says. "And we said, 'Well, wait a minute. We can't be the frontline troops and wait for people in the rear echelon to make up their minds."
A city ordinance now limits sweepstakes cafes, a growing national phenomenal that's also hit several Metro Atlanta and Middle Georgia areas.
"We didn't want to deprive businessmen of the right to do legitimate business," Weaver says. "We just want to make sure that they realize that we want it to be legitimate. We want our citizens to deal with honest individuals and businesses. And that's why we chose to regulate it, as opposed to prohibit it."
Deal vetoed a bill targeting "sweepstakes centers" because the Governor said it could've expanded coin operated games.
Tags: Jacksonville, St. Mary's, St. Marys, GPB News, gambling, Governor Nathan Deal, Gov. Nathan Deal, gambling internet cafes, Roger Weaver
Bottom Content