Section Branding
Header Content
More Fish Dying On Ogeechee
Primary Content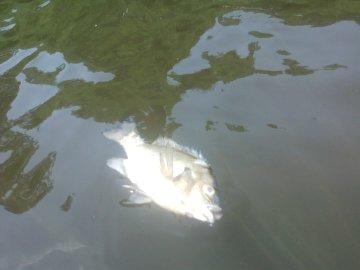 The Ogeechee Riverkeeper says, more fish are dying in the East Georgia waterway, months after a massive fish die-off in May.
State officials are not answering questions about the river's safety.
Officials with the state Environmental Protection Division and those of textile maker King America Finishing in Screven County say, they have no comment about new reports of fish dying in the Ogeechee River.
Tens of thousands of fish turned up dead this spring.
The new die-off this past weekend was less intense.
But Riverkeeper Diana Wedincamp says, pollution levels are now astronomical.
"The state really has to step up and do something," Wedincamp says. "It is really an emergency situation and the public has to be protected."
Wedincamp says, recent samples show extremely high levels of formaldehye, sulfates, nitrogen and ammonia.
"We're hearing reports of more dead fish showing up," Wedincamp says. "We want people to be careful, to stay out of the water and not to eat the fish."
The source of the fish kill has been traced to the textile mill discharge pipe.
Wedincamp says, the pipe pumps a bluish-black liquid into the river, turning white sandbars into bluish-black sandbars.
Reached by phone at his office, Mike Beasley, CEO of King America Finishing, said he had "no comment at this time."
State environmental regulators also have refused to answer reporters' questions about the river for months.
"I still cannot comment on the Ogeechee River situation because the investigation is ongoing," wrote Kevin Chambers, EPD spokesman, in an e-mail response to GPB. "You will be notified as soon as the investigation is complete."
Wedincamp has filed an intent to sue the mill and EPD.
A group of area land owners also have sued.
Tags: Savannah, Environmental Protection Division, Georgia Environmental Protection Division, Statesboro, Ogeechee River, Ogeechee-Canoochee Riverkeeper, GPB News, Ogeechee River Basin, Ogeechee Riverkeeper, Georgia Environmental Protection, Dianna Wedincamp, Ogeechee Fish Kill, King America Finishing Plant, Kevin Chambers
Bottom Content