Section Branding
Header Content
Kell Classic: Grayson Defeats Kell in Opener
Primary Content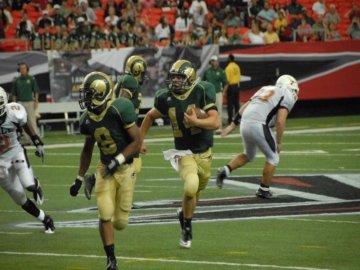 Grayson won a defensive duel 7-0 over Kell at the Georgia Dome in the opening game of the Metro PCS Corky Kell Classic. A muffed punt by Longhorns WR/DB Julian Burris gave the Rams the ball at the Kell five. On the next play, Grayson DE/RB Robert Nkemdiche took the ball in for the game's only score.
The game was a running-heavy contest as both teams took turns trying to control the action on the ground. But it wasn't until midway through the fourth period when Grayson broke through with the game's only score.
Nkemdiche was the star of the game, as the junior bluechip prospect made several plays on defense as well as running the ball for the Rams' offense. At the half, Nkemdiche had four rushes for 23 yards and finished with 32. Devin Gillespie has a 25-yard run for Grayson to the Kell 35 in the third, but again the Rams could not capitalize.
Kell had an amazing interception made by DB Brandon Langley, who dove in the end zone to snare Grayson QB Nick Schuessler's third down pass in the third quarter. The pick ended yet another drive for Grayson, who struggled to move the ball past the Kell 35 for much of the day.
Meanwhile, Kell could not get much going at all. Their leading rusher was A.J. Redwine, who had just 22 yards.
When they did move past the 35, midway through the first half, the Rams missed a field goal.
Next week Kell will be off, while Grayson will face Edgewood (Fla) in the Progressive Football Challenge at North Gwinnett.
Tags: GHSA, high school football, Corky Kell Classic, Lassiter, Metro PCS, Brookood
Bottom Content