Section Branding
Header Content
Barrow, Kingston Watch Redistricting
Primary Content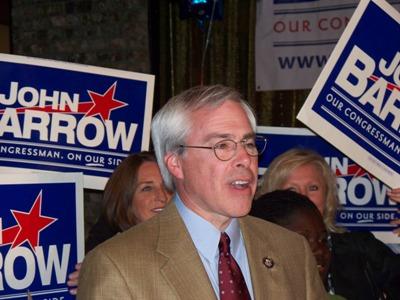 US Congressman Jack Kingston is closely watching the once-a-decade redistricting turf war in the state capital.
The Savannah Republican wants to keep his Valdosta constituency.
Valdosta is home to Moody Air Force Base.
Kingston also represents Fort Stewart, Hunter Army Airfield and the King Bay Naval Submarine Base.
The ten-term Congressman says, the military installations represent a community of interest that should be kept together.
"With another round of Base Realignment and Closure coming, Moody always seems to be a step away from getting on the list," Kingston says. "So, I'm very concerned about Moody."
Valdosta is currently in the First Congressional District.
Lawmakers could move it into the Eighth District to account for population shifts elsewhere.
US Congressman John Barrow also is following the legislative redistricting session closely.
The four-term Savannah Democrat could be a target in the once-a-decade political turf war.
Ten-years ago, then-majority Democrats created the Twelfth District to favor one of their own.
Now-majority Republicans might draw Barrow or Democrats out of it.
His spokesman Chris Cashman says, Barrow will run again, either way.
"He's going to take a look and see whatever scheme the folks in Atlanta decide to finalize," Cashman says. "Then he's going to do whatever he needs to do in order to continue to represent the majority of the folks he's continued to represent in the past."
One scenario has more of Democratic-leaning Savannah moved into the GOP-leaning First District to the south.
State lawmakers are currently meeting at the state capitol to re-draw political district boundaries based on the last Census.
Tags: Valdosta, Savannah, Jack Kingston, Moody Air Force Base, John Barrow, 8th District, 1st District, U.S. Congressman John Barrow, U.S. Representative John Barrow, Rep. John Barrow, Congressman John Barrow, GPB News, U.S. Rep. John Barrow, 12th Congressional District, 12th congressional district Georgia, Georgia 8th Congressional District, 1st Congressional District, Georgia's 8th district, Georgia redistricting, redistricting, Georgia's 12th District
Bottom Content