Section Branding
Header Content
Immigration Law Impact Spreads
Primary Content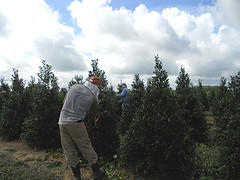 Georgia's new crackdown on illegal immigration has been law since July 1. Farmers say it's scaring away both documented and undocumented workers. And now other sectors are beginning to feel the pinch. Some businesses say without these workers, they can't get the job done.
John Barbour's company, Bold Spring Nursery, is one of those businesses. Barbour grows 200 varieties of shade trees on his 1,100-acre farm in Pulaski County, south of Macon.
It's painstaking work. Employees manually prune specimens for high-end landscapes. Barbour's trees dot the Augusta National golf course and the Washington Monument.
Driving on his farm, Barbour says he's lost five workers since May.
"We had three Latinos quit, and move out of Georgia, and say they no longer felt safe in Georgia," Barbour said, while driving around his farm last month. "They didn't walk up to me and say, 'Hey I'm here illegally and I have to get going,' but now it's probably safe to assume that was the situation."
He continues, "You could look at that and say, 'Mission accomplished, right?' That's what we are trying to do, is get rid of illegal immigrants, but…"
"Now you have to fill those jobs."
"That's right," he said.
In an attempt to replace them, Barbour hired two Americans. Tending to trees in the hot sun, they couldn't handle the same hours as he and his migrant workers.
"They lasted seven weeks," which was longer than usual, he said. "The problem was, during those seven weeks, we averaged 47 hours a week working, and they averaged 27 hours a week."
Georgia's $68 billion-dollar agriculture industry opposed the bill from the start. In June, a federal judge blocked two of the law's provisions. But many firms will have to check workers' immigration status starting next year.
Restaurants, however, may already be taking a hit.
Karen Bremer of the Georgia Restaurant Association says half the restaurants she surveyed lack workers, and some have changed the way they hire.
"We've had comments, some comments, that some restaurateurs are just now, they're uncomfortable now at this point hiring anybody who has a Hispanic surname or an Asian surname," Bremer told a state Senate hearing organized by Democrats last month.
The bill's Republican supporters say most Georgians want this law. House Speaker David Ralston says it's unclear how agriculture is really faring, but he says most companies are slowly learning to live with it.
"There are indications that some of the notion that agriculture is taking a hit may be being exaggerated by some," Ralston, a Blue Ridge Republican, said in a phone interview. "I don't want to minimize that this is sort of a transition period that we are going to be going through. I also get reports that that community is dealing with this."
Gov. Nathan Deal says much of the labor shortage talk is speculation. He declined an interview, but has said the law will save the state illegal immigrants' medical and education costs.
To be sure, many firms have seen no impact. The state's large peach growers, for example, mainly use a federal foreign guest worker program.
Most business owners say the labor issue isn't about politics. Jerry Davis manages the Heart of Georgia Peanut and Gin Co. in Hawkinsville. He says he voted for Gov. Deal, and will do so again. He just wants to run his business as he sees fit.
"Let me do my job," Davis said in an interview at the plant. "Let me hire the employees that are employable, and I'll do whatever I have to do."
Davis is eying the calendar. Come fall, he'll need a crew of nine migrant workers to gin the cotton. For the first time in a decade, Davis says he could be short.
"I will be concerned until everybody shows up here in October," he said. "When I say I've got a full crew, I'll quit worrying."
Back at the tree farm, Barbour is already worrying about next year.
"Our peak season is in February, and that's when we're hopefully going to ramp up the level of our workforce," Barbour said as he pointed out tree specimens. "And everyone here is worried about their job, and their future and our ability to get the work done."
By July of 2013, all Georgia companies with more than ten employees will have to check their workers' immigration status.
Bottom Content