Section Branding
Header Content
Textile Plant Sued Over Fish Kill
Primary Content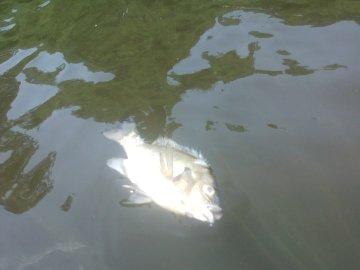 People living along the Ogeechee River are suing a southeast Georgia fabric plant. They're blaming the company for causing the deaths of more than 33,000 fish last month.
The dead fish were found around May 18th near King America Finishing plant in Screven County and further downstream.
Days later Environmental Protection Agency scientists found formaldehyde, ammonia and hydrogen peroxide in the river.
The EPA concluded the levels weren't high enough to cause the fish kill by themselves, but they could have weakened the fish.
Environmental lawyer Ed Hallman represents hundreds of landowners suing King America.
He says King America dumped chemicals into the Ogeechee, and the state environmental regulators waited too long to test the water and haven't thoroughly investigated the company.
"It's a shocking situation. I've worked in state government and I've worked with federal government and I've never seen a situation handled like this," says Hall.
Lab tests found the fish died from bacteria called columnaris that normally don't infect fish unless they're already stressed by changes in the environment.
State environmental regulators and King America Finishing plant did not return phone calls seeking comment.
Tags: Environmental Protection Division, Environmental Protection Agency, Ogeechee Fish Kill, King America Finishing Plant
Bottom Content