Section Branding
Header Content
Friday Night Baseball and Soccer Playoff Results
Primary Content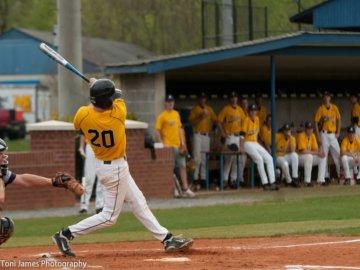 Many of the favorites in girls soccer advanced into the semifinals Friday night with dominant performances. However, the game of the evening may have been Athens Academy's 1-0 win over Holy Innocents'.
Also, several metro Atlanta baseball teams took part in the first round of the state playoffs Friday night. Recaps of select series are below.
Lassiter 1-3, Peachtree Ridge 0-4
In a Class AAAAA first-round baseball playoff, the Trojans and Lions split a pair of games at Lassiter. In the opener, Lassiter's Parker Shank pitched a complete game shutout.
In game two, the Lions scored two runs in the fourth inning on RBI singles by Tripp Miller and Jared Walsh. Billy Best homered for the visitors. Colton Ramsey was the winning pitcher, while Preston Johnson came in to earn the save.
Class AAAAA
Alpharetta 3-6, South Gwinnett 2-4: Demitri Kourts pitched a complete game with seven strikeouts in the host Raiders' Game 1 victory. Alpharetta won Game 2 with two doubles from Kourts. Taylor Hall was the winning pitcher.
Brookwood 10-2, North Forsyth 2-6: In Game 1, Lucas Sims went 3-for-3 with four RBIs, including a two-run home run for the Broncos. Jacob Beauchamp pitched six innings to earn the win. Casey Hannah pitched a complete game in the second contest for the visiting Raiders.
Parkview 5-6, Centennial 1-5: The host Panthers' Matt Olson had nine strikeouts and allowed one run, while Jack Esmonde added two RBIs in the first game. In the second game, Jesse Foster stuck out eight and Esmonde came on for the save.
Class AAAA
Lambert 9-5, South Paulding 6-9: David Brobus was 3-3 with two RBIs and Keith Grabowski added two more in host Lambert's Game 1 victory. South Paulding won Game 2 behind Jamie McKnight's complete game and Marquis Vialet's home run.
Marist 10-4, Madison Co. 0-0: Blake Stevens pitched a 1-hit six inning gem in the opening game of the playoffs for Marist. Brandon Leibrandt shut out Madison Co. to finish off the sweep. Kevin Gale hit a two-run home run to seal the series win.
Class AAA
Woodward Academy 14-17, Heritage-Catoosa 3-7: Morgan Bunting hit a home run in each game and finished the second game on the mound, pitching a scoreless inning. Kevin Cosper, Andrew Adams and Zack Blonder each homered for the host War Eagles.
Class AA
Blessed Trinity 7-6, North Oconee 5-1: Host Blessed Trinity won Game 1 in 10 innings with a two-run walk-off homer by Jeff Sidlovfky. They tied the game in the seventh with a single by Merrik Metcalf. The winning pitcher in Game 2 was Keenan Innis.
Class A
Hebron Christian 2-13, North Cobb Christian 0-0: Host Hebron Christian swept North Cobb Christian in the first round with solid pitching from Mason Felt. Felt pitched five shut-out innings in the second game, while in the first game the Eagles' Daniel Adams gave up a two-run homer.
Holy Innocents' 15-11, Landmark Christian 4-1: Wes Simons led the way for the visiting Bears by hitting a double, a home run, and three singles in the two-game sweep. Holy Innocents' also got a home run from junior Skye Bolt. Ed Broyles and Will Small picked up the victories on the mound.
Wesleyan 15-11, Lincoln Co. 11-1: The visiting Wolves swept the first-round series from Lincoln County behind winning pitchers Jeremy Shirley and Jamie Stark. Shirley came on in relief in the opener and pitched five innings, giving up four earned runs. Will Anderson was 4-for-6 in the series with six RBIs.
Girls soccer
Class AAA
St. Pius 10, Mary Persons 0: The visiting Lady Golden Lions were led by goalkeepers Alexis Conners and Aliana Romero, who combined for the clean slate.
Woodward Aca. 6, West Laurens 0: The host Lady War Eagles raced to a 4-0 halftime lead. Bria Washington and Maddy Donlan each scored two goals while Hannah Aiken had three assists.
Class AA
Greater Atlanta Christian 10, Pike Co. 0: The visiting Lady Spartans had six players score, including Rachel Garcia and Chelsea Gandy-Cromer who each had three goals. Elizabeth White and McKenzie Nelson combined for the shutout in goal.
Westminster 3, St. Vincent's 0: Freshman Caroline Beadles scored the first goal and assisted on the third goal for visiting Westminster. Senior Charlotte Butker added a goal for the Lady Wildcats.
Woodward Aca. 7, Grovetown 1: The visiting War Eagles took a 3-0 half-time lead on the strength of two goals by Hugh Pringle. Alex Goodwin also had two, and three others scored for Woodward.
Class A
Athens Academy 1, Holy Innocents' 0: In a Class A girls soccer quarterfinal Carly Settles scored the only goal of the game for visiting Athens Academy. Goaltender Katlin Stephens did not allow a single goal, as Alex Knisley and Ceci Crowe helped anchor the Lady Spartan defense.
Fellowship Christian 2, Walker 0: The host Lady Paladins benefited from a shutout by goalkeeper Megan Soderland. Fellowship Christian's Sara Faye Stainback scored two goals to help advance her team to the semifinals.
Paideia 7, Savannah Country Day 0: Lady Python goalkeeper Margaret Hines earned a shutout, while Madison Hafitz scored three goals. Four others scored for visiting Paideia, which scored three goals in the first 10 minutes of action.
Contributors: Joe Deighton, Thomas Watson
Tags: GHSA, high school, baseball, high school sports, playoffs, girls soccer
Bottom Content