Section Branding
Header Content
Governor Will Approve Sunday Sales
Primary Content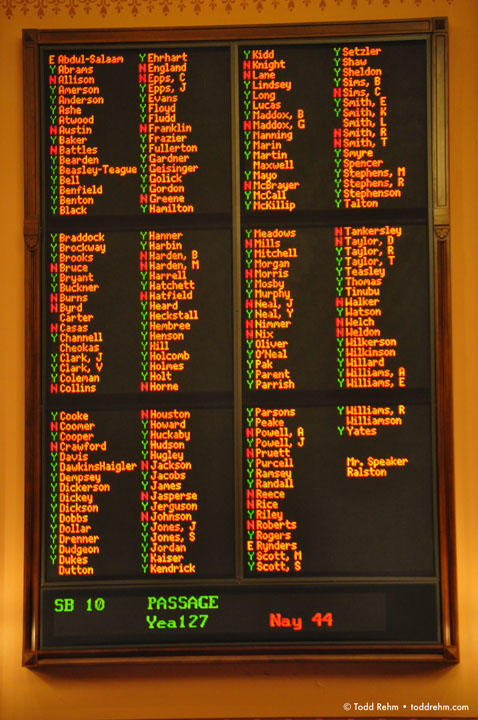 A bill that would allow communities to decide if they want local stores to sell alcohol on Sundays is heading to the Governor's desk. The bill survived many hurdles before passing in the state House late Tuesday.
When the bill re-emerged this legislative session, lawmakers said it had a good chance of passing after years of failing to gain enough support. But then the Senate's Republican leadership delayed the vote.
The measure later passed the Senate after a three-hour debate. Then it sat for nearly a month before the House took up the measure Tuesday.
Christian groups lobbied hard against the bill, saying it would increase drinking-related driving fatalities. But Rep. Roger Williams, a Dalton Republican, says the measure merely expands Georgian's current right to drink on Sundays.
"It's about fairness," he said from the floor of the House. "It's not about religion. It's not about drinking. It's about being fair. We have a situation where local governments now are allowed to serve by the drink on Sunday yet we cannot buy packaged sales at a store on Sunday."
Governor Nathan Deal has said he will sign the bill as long as it contains a referendum option, which it does.
He says he won't stand in the way of local control.
"I'm not going to tell local governments what to do. I certainly do not encourage them one way or the other. I simply view this as an issue local government has a better feel for and local people have an opportunity to express their wishes."
The Georgia Christian Coalition lobbied against the bill early in the session. But when it passed the Senate last month, the coalition's president, Jerry Luquire said he would not fight it in the House because he was confident it would pass.
Proponents of the bill have said the issue is convenience.
Horace Hamilton, a vice president with the Kroger supermarket chain in Atlanta, testified before the House Regulated Industries committee. He said ten percent of the chain's customers only shop on Sunday. And that's what motivated him to support the bill.
"I don't necessarily know if we will make any more money," he said after the committee meeting. "We will just make it easier for our customers to shop for all of the items we sell when they want to."
Working moms rallied for the measure, saying Sunday is their day to do all of their grocery shopping, and they said that should include a bottle of wine if they so choose.
Assuming the Governor signs the bill, Sunday sales measures could be on ballots as soon as this fall.
Tags: lawmakers, alcohol, Sunday alcohol sales, Sunday alcohol sales bill
Bottom Content