Section Branding
Header Content
Bald Eagle Faces New Threat
Primary Content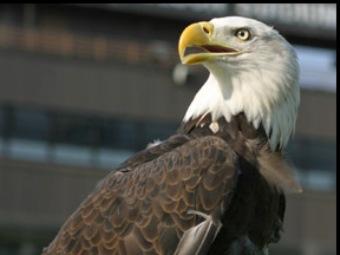 Bald Eagles are rebounding across most parts of Georgia. But, there are a few places where they're dying. Scientists are racing to figure out why.
Officials with the Georgia Department of Natural Resources say eagles are now nesting in one of every three counties. Twenty years ago they were nearly extinct.
But in some places they're dying, like Lake Thurmond near Augusta. The culprit may be toxic, invasive algae eaten by animals on which eagles prey. Scott Courdin works with eagles at Georgia Southern's Center for Wildlife Education in Statesboro.
"It seems to be a spreading issue. Right now it seems to be fairly localized to certain areas. But, unfortunately it is spreading and it seems to be, they're contracting it through what they're eating."
The disease, Avian Vacuolor Myelinopathy is neurological. It's also been found in Juliette, West Point and small reservoirs near Atlanta.
Tags: Georgia Department of Natural Resources, Georgia Southern University, Center for Wildlife Education, Georgia bald eagles
Bottom Content