Section Branding
Header Content
Crews Make Progress on SE Georgia Wildfires
Primary Content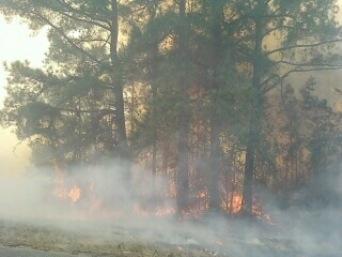 Firefighters have made progress containing wildfires in four southeast Georgia counties that have already burned more than 53 square miles.
Eric Moseley with the Georgia Forestry Commission said low humidity, less wind and lower temperatures overnight Friday helped firefighters make significant progress on the fire burning in Long County.
"We were able to get a really strong fire break on most portions of that fire," Moseley said. "The fires in and around the Waycross area and around Homerville are still causing some problems and are still active."
Moseley said additional crews are due to arrive Saturday from north and central Georgia and north Florida and the extra manpower will make a big difference in containing the blazes.
But despite rain in the forecast, he does not expect much help from the weather.
"Unfortunately, a lot of times with fronts coming in, comes wind. We are expecting higher winds today and into tomorrow and those winds are going to be a factor," Moseley said.
Governor Nathan Deal declared a state of emergency in Long, Bacon, Clinch and Coffee counties late Friday.
The Federal Emergency Management Agency also authorized federal funds to reimburse up to 75 percent of the cost of fighting the fires.
Georgia authorities said drought conditions and windy weather in southeast Georgia have caused a busy start to what could be the state's busiest wildfire season since 2002.
Contributors: The Associated Press contributed to this report.
Tags: wildfires, Georgia Forestry Commission, southeast Georgia wildfires, 2011 wildfires
Bottom Content