Section Branding
Header Content
Could Georgia Opt-Out Of Health Law?
Primary Content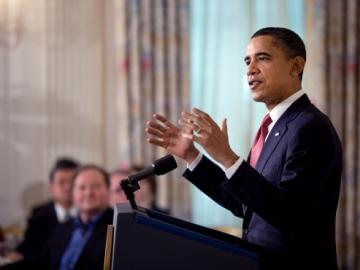 Governor Nathan Deal says, he'll take up President Barack Obama's offer of an early opt-out of the federal health care law.
Some health care advocates are skeptical the state can go its own way in so short a period of time.
The President says, he supports an effort to let states opt-out of the Affordable Care Act as early as 2014 as long as they meet coverage requirements and don't increase the deficit.
Deal Spokeswoman Stephanie Mayfield says, the Governor welcomes flexibility.
"Governor Deal has every intention to produce health reform that is affordable and flexible for Georgians," Mayfield says. "And when we submit our plan, it'll be up to the Obama administration to stay true to their promise."
But opting-out means covering an estimated two million uninsured Georgians in three years.
Cindy Zeldin of Georgians for a Health Future doubts the state can do it.
"The intention of the provision that allows states to opt-out is for states like Vermont that have near-universal coverage," Zeldin says. "I don't think that Georgia would be able to set-up an alternative system that would get nearly all of our uninsured coverage at the price that they will be paying once the Affordable Care Act is implemented."
Georgia's top insurance official agrees.
"I think that they [federal officials] have severely underestimated what the cost of this Obamacare would be," says Ralph Hudgens, Georgia's Insurance and Safety Fire Commissioner. "And if they're making us comply with the cost they're projecting, I don't think there's any way possible we could do it, I don't think any state could do it."
Hudgens, Deal and the state's Attorney General all oppose the federal health care package.
Georgia is actively seeking to overturn the law in federal court, which would make an opt-out moot.
The opt-out provision also would have to get through the US House, where majority Republicans also oppose the Affordable Care Act.
Tags: Nathan Deal, Barack Obama, President Barack Obama, President Obama, GPB News, Obama administration, uninsured, health reform law, Georgians for a Healthy Future, Insurance Commissioner Ralph Hudgens, Governor Nathan Deal, Gov. Nathan Deal, Affordable Care Act, Cindy Zeldin, Stephanie Mayfield
Bottom Content