Section Branding
Header Content
Georgia Cities Welcome Solar Studies
Primary Content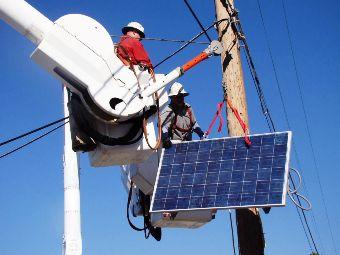 For the next 18 months several Georgia cities will be part of a solar experiment. But unless you look up, you may not even notice.
Georgia Power recently installed solar panels on the tops of several power poles in Augusta, Columbus, Conley, Macon, Rome, Savannah and Valdosta. The goal is to see how well they do under different environmental and weather conditions.
Georgia Power's Carol Boatright says for 18 months researchers will collect data and then ask the following questions.
"What is the best place? What is the best setting to use this type of panel in? Is this an effective technology in the Southeast? Would it perhaps work better somewhere else? What can we do to improve on it?"
Power generated by the 3X5 foot panels will be fed directly into distribution lines. Once the test is complete the panels will stay up and be monitored for long term results.
Tags: Georgia Power, Valdosta, Augusta, Columbus, Savannah, Macon, Rome, solar power, Conley
Bottom Content