Section Branding
Header Content
iPads Instead Of Books? It Could Happen Here
Primary Content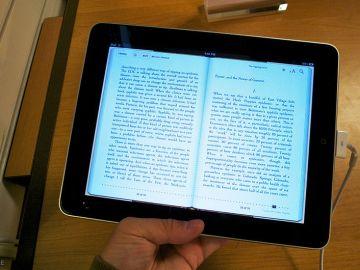 State lawmakers are looking into the possibility of replacing books in Georgia middle schools with iPads.
The idea follows iPad roll-outs at schools in Virginia, Texas and Savannah.
A private school here, St. Andrews, gave about 300 of its students iPads to take home in August.
The head of the school, Gil Webb, says that there have been just three or four breakages and the devices motivate students.
He says, the devices help teachers the most because of the devices' instant access to the Internet.
"From a teaching and learning standpoint, to have that resource available whenever you need it for whatever purpose is just remarkable," Webb says.
The President Pro Temp of the Georgia Senate, Tommie Williams (R-Lyons), says that he'd like a pilot program in the public schools.
"The results are tremendous. The kids perform well," he says. "And frankly, it's the way kids learn now. So, we don't need to be the last state to do this. We're not the first."
Williams says, the iPads are a "pretty good deal."
But the math has yet to be worked out in detail.
They would cost the state about $500 each, including teacher training, wi-fi networking and other perks.
Right now, books for Georgia's middle schools cost about $40 million a year and must be replaced about every seven years.
Apple would pay for upgrades every three years but parents could be required to buy insurance against theft and damage.
At least one middle school principal doubts that theft and damage would be as big an issue as some think.
"Students respond to high expectations," says Kimsherion Reid, principal of Southwest Middle School in Savannah's Chatham County. "The level of responsibility is not as much of an issue with those expectations clearly communicated."
Williams' proposal at this stage is still very preliminary.
He told reporters Wednesday that there isn't a specific budget allocation for iPads, but the Department of Education has some flexibility at least to fund some demonstrations.
Tags: education, technology, Apple, Savannah, Tommie Williams, Texas, Virginia, Chatham County schools, Chatham County, state Senate, computers, Georgia state senate, GPB News, GA State Senate, middle school students, Savannah-Chatham County schools, Chatham County education, Computer, iPad, St. Andrews School, Gil Webb, Kimsherion Reid, Southwest Middle School
Bottom Content