Section Branding
Header Content
Gov. Perdue Issues State Of Emergency
Primary Content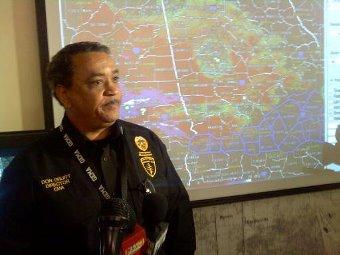 Governor Sonny Perdue Sunday night issued a state of emergency as the front-end of a severe winter storm began to move into Georgia. Perdue made the order in consultation with governor-elect Nathan Deal, who is scheduled to be sworn in as Georgia's 82nd Governor Monday afternoon.
The executive order allows for state resources to be available for response and recovery activities, and calls for the Georgia Emergency Management Agency (GEMA) / Office of Homeland Security to activate the state's Emergency Operations Plan.
Some parts of the state could see up to 6 inches of snow by the time the storm rolls through. Forecasters however, are concerned about the effects of freezing rain and sleet across north and middle Georgia.
Already, many school districts and colleges have cancelled Monday classes. Those closings include the University of Georgia and Georgia State University. Hundreds of flights were canceled at Hartsfield-Jackson Atlanta
International Airport ahead of the storm.
In middle Georgia, Bibb County Emergency Management officials were preparing for the expected winter storm. First responders and local officials met Sunday afternoon to deploy personnel and equipment as soon as it is needed. School officials also announced they would be closed Monday. This scene is one being played out across the state in many North and Central Georgia counties.
The National Weather Service issued a winter storm warning to run Sunday night from 7:00pm, lasting through Monday evening for all of north and middle Georgia. The precipitation will start out as snow or sleet across North Georgia and a mix of freezing rain and sleet in Central Georgia. Slight changes in temperature could impact expected snow totals. The North Georgia Mountains could get as much as 6 inches with up to 2 inches possible in places like Macon. Local officials say their big concern is the possibility of an ice storm.
Officials with the Georgia Department of Transportation say they have hundreds of people on call, but they encourage people to stay off the roads.
Officials with Georgia Power say they are in contact with emergency management officials across the state in case the storm ends up bringing significant icing conditions and knocks out power.
In advance of the storm Governor-elect Nathan Deal's inauguration has been scaled down. All non-essential inaugural activities have been canceled and the new governor and other constitutional officers will take the oath of office at 2:30pm Monday inside the State Capitol.
Contributors: Edgar Treiguts
Tags: Central Georgia, National Weather Service, Macon, north Georgia, Georgia weather, snow, Georgia snow, winter storm
Bottom Content