Section Branding
Header Content
New Ban On Offshore Drilling
Primary Content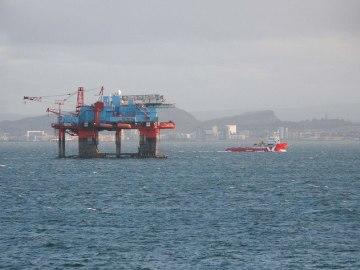 Georgia environmental groups are praising a decision by the Obama administration to reverse itself on offshore drilling.
The groups are hoping that a pair of recent administration decisions could open the potential for wind.
Interior Secretary Ken Salazar said Wednesday, the administration will not pursue new oil wells off the East Coast, reversing a decision made before the Gulf of Mexico oil spill.
And last week, Salazar said he'd institute a new permitting process for offshore wind power to get wind farms up more quickly.
Environment Georgia spokesman Jennette Gayer says, both announcements advance Georgia's wind potential.
"Georgia has nineteen gigawatts of commercially viable wind off the coast," Gayer says, noting that that's enough to power five million households. "That's wind that's actually stuff that we can get at and not harm the environment at the same time."
The US Chamber of Commerce opposed the oil reversal, saying it would harm the economy.
Georgia remains far behind Northeastern states in developing wind.
Offshore wind -- and oil -- have long been considered distant possibilities along the East Coast -- including Georgia -- and one industry analyst told the online journal Politico that the announcement was simply base politics.
Tags: coast, Jekyll Island, Tybee Island, Coastal, oil, coastal Georgia, St. Simons Island, Environment Georgia, wind, GPB News, Obama administration, offshore drilling, wind farm, oil spill, Gulf Coast Oil Spill, wind power, oil drilling, BP oil spill, wind energy, Gulf oil spill, Atlantic coast, Atlantic beaches, Jennette Gayer, Interior Department, Ken Salazar
Bottom Content