Section Branding
Header Content
Perdue Announces New Facility And New Jobs
Primary Content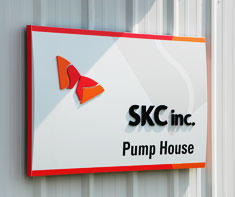 Governor Sonny Perdue announced today that SKC, Inc., a Georgia-based manufacturer of polyester films, will open a new production facility in Covington in Newton County. This new project is expected to create 120 new jobs, and represents a $100 million investment. The new facility will be located on SKC's existing Covington campus, which also houses SKC's U.S. corporate headquarters, polyester film production facilities and a new chemical systems house that opened in May 2010.
"Since opening its headquarters here in Georgia in 1999, SKC, Inc. has been a valued member of the manufacturing community in our state," said Governor Perdue. "I am excited to see SKC expand the scope of its business in Georgia, and continue to create jobs that positively impact our state's economy."
The new 200,000-square-foot manufacturing facility will produce plastic film components for the budding U.S. solar panel industry as well as other products, and is expected to be built in two phases.
SKC opened its state-of-the-art headquarters and manufacturing facility in Covington in May 1999, and currently manufactures a variety of Skyrol® brand polyester films on three production lines. The company's Newton County operation ranks as the most productive and advanced plant in the polyester films manufacturing sector.
"Covington/Newton County is fortunate to have such a strong community partner in SKC. We have worked closely with them since their opening in 1999," said Hunter Hall, president of the Covington/Newton County Chamber of Commerce. "We've enjoyed watching their growth and are pleased beyond words that they have chosen to locate their solar venture in Covington/Newton County. We look forward to a long and prosperous future with SKC as our partners."
The company expects to begin hiring for the jobs created through the SKC expansion in April 2011.
About SKC, Inc.
SKC, Inc. is a subsidiary of SK group the world's leading manufacturer of specialty & PET film sold under Skyrol ®, Skywel® Skynex®, and SKC PI® film brand based in Korea. The SK group conglomerate operates in the energy, petrochemicals, fibers, films, telecommunications, life sciences, consumer products, trading and finance sectors.
SKC, Inc. produces a wide range of films used in packaging, industrial, imaging, electrical, bio-compostable and solar applications. SKC, Inc. is based in the U.S., near Atlanta, Georgia and their state-of-the-art facility is situated on 389 acres.
Tags: jobs, SKC Inc, Convington facility, specialty and pet films
Bottom Content