Section Branding
Header Content
Kell Defeats Yet Another Ranked Foe, Now 6-0
Primary Content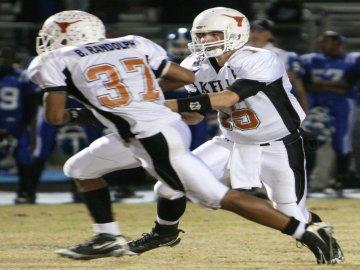 The Kell Longhorns were reclassified to the Class AAAA-level before the start of this season ,and that could be just the edge the Longhorns need to go the furthest the team has ever reached come November and playoff time. The Longhorns, after starting the season 5-0 with four wins over Class AAAAA competition, faced an unbeaten Pope team Friday night at Kell Stadium and the home team would not disappoint the Homecoming crowd. Brian Randolph capped off two 91-yard drives in the first half and had three total scores in the first 24 minutes of play to help Kell jump out to a 21-0 lead on Pope. Junior tailback Chris Gaines was also churning up yardage while quarterback Austin Petrik was able to find receiver Hunter Marshall whenever the situation called for a pass.
Just before halftime Pope notched a 33-yard field goal, its longest of the season, to pull to within 18 points at intermission. Pope would take the second-half kickoff and drive for a score after a lengthy halftime while perhaps Kell was still thinking of its Homecoming queen. Pope QB Holland Frost would find his favorite target Garrett Brown on an 18-yard TD toss and then Kyle Falvey snatched a Frost bullet for the two-point conversion to pull to 21-11.
Then Pope forced a three and out to get the ball back and once again drive the field for a score. This time Frost himself kept and carried it in from 10 out on third and two. The extra point made it 18 straight points and trimmed Kell's lead to just three.
This is where Kell said, "ENOUGH!" The Longhorns drove eighty yards and picked up several third down conversions before Petrik found Hunter Marshall on a four-yard fade route to move ahead 28-18 as the Longhorns finally answered the Pope momentum. A Pope field goal in the fourth quarter pulled the visitors to within seven but once again, like the No. 4 heavyweights they are, Kell marched down the field before a four-yard Petrik to Brent Boxberger TD connection ended any threat of a Pope spoiling of Homecoming. The final score was 35-21 and Kell proved just how good the Longhorns are, to jump out early, take Pope's best shot and then answer with an authoritative smack of two touchdowns. Brian Randolph was the story early but the hard-running of Chris Gaines late combined with Petrik's two touchdown passes and Kell might be an outside shot to end Cobb County's state title drought.
Bottom Content