Section Branding
Header Content
ECLA's Walls may be the top safety prospect in Georgia
Primary Content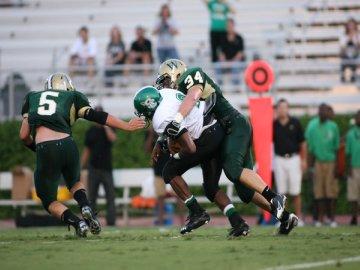 Last night Avery Walls of Eagle's Landing Christian Academy joined Score Atlanta's The Official Visit, and spoke with co-hosts Fletcher Proctor and Scott Janovitz. One very refreshing personality trait of Walls immediately was evident in the interview and that was that Walls sees football as a chance to get a quality education.
Walls is viewed by some as the best safety prospect in the state of Georgia, and his recent bone-jarring hit in a 27-0 victory over North Florida Christian Academy has become a youtube phenomenon. While Walls is flattered by the praise he is receiving from coaches, media members and recruiting services, he also is quick to praise other Georgia safety prospects such as Grady's Damian Swann and Corey Moore of Griffin for their past efforts. "They are both fine players, and as far as who is the best, I think at the end of the year we will see how everyone's season goes and we can look at the tape."
Walls transferred to Eagle's Landing Christian for his senior season, and so far, is loving his new school. Walls said he loves the staff, the coaches and the environment of his new school, and he said he will benefit from his new surroundings as he moves forward in life. "Everyone is united," Walls said of the renowned academy, known for its strong Christian attitudes.
As far as recruiting goes, Walls noted that he has enjoyed the process but is happy that it has settled down a little. "The attention really jumped after (receiving) the first offer from Oklahoma." Walls tried to visit Norman recently but the trip fell through. The Sooners might still get an official visit, but Walls says he will try and use his officials for places that are far away. He is planning a trip to Ann Arbor this weekend to see Michigan, and he will head west to Oregon on October 2 and to Cal on October 9.
Those four schools made Walls top eleven, as did Connecticut and Virginia, as well as South Carolina and Tennessee. Distance, clearly is not a factor for Walls. "I can go anywhere and have support." Walls mentioned that he has family in Connecticut as well as Ohio, which is not that far away from the Virginia campus. He also praised Virginia for taking two or three-star players and turning them into first-round NFL draft picks.
The most important thing about where he will attend college though seems to be the degree he will work towards while working on the gridiron. "Academics are the key. I want a good system." Walls said the school must meet his two most important criteria: a Tier One academic institution and it must have a quality business program. Most of the west-coast schools that Walls will visit meet those two factors as do UConn and Virginia. South Carolina and Tennessee are the only two schools from the south that Walls is really considering, but that has a bit less to do with academics as it does with the SEC and its "great fans."
"I went to a camp at South Carolina and I have a former teammate at Tennessee. Those are two really good schools too," said Walls of the SEC East members. Oklahoma, the first to offer Walls also has an interesting connection to Georgia. Former Bulldog defensive coordinator Willie Martinez is now a defensive backs coach with Bob Stoops and the Sooners, something that intrigues Walls.
"OU is a great school, they have great tradition and a great fan base. Also, Willie Martinez is a great defensive backs coach," revealed Walls about the "in" OU has.
While a timeline for his decision has not been announced, Walls does say that he is planning on graduating on December 20 and then matriculating to his college choice in January. This, he hopes, will help him adapt to college. "I want to stay ahead in my classes," said Walls of his reasoning for wanting to enroll early. His first year expectations on the field are also ahead of the curve. "I am going to listen to the players above me, the ones that have been through recruiting and have gone through adjusting to college." Walls reiterated the importance of getting to know his teammates. "When I (arrive on campus), I will already have a relationship with the coaches, so I'll try and meet all of the other players, and that should make us better as a team."
Avery Walls with his talents in the classroom and on the football field really could go anywhere in the country and make an impact early. Expect whoever snags Walls to benefit not just on the football field but also in the community. Walls could be as galvanizing a force to a team and a city as Tim Tebow was to the Florida Gators, but he'll never tell you that. He is too nice and too humble to toot his own horn. He'll just let the youtube hits do that for him.
Bottom Content