Section Branding
Header Content
Timeout Gives Peachtree Ridge, Gwinnett County Corky Kell Classic Victories
Primary Content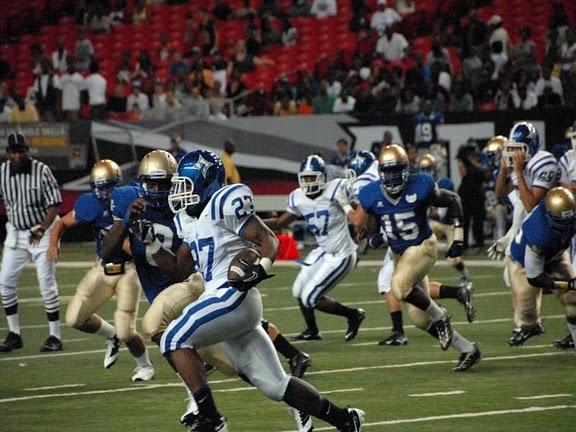 The biggest play of the game was a timeout.
When McEachern lined up for a 47-yard field goal attempt with seven seconds remaining in the Georgia Dome, Peachtree Ridge thought fast and saved the game for themselves and the Corky Kell Classic for Gwinnett County.
Down three, McEachern's Nicholas St. Germaine drilled the field goal, but it didn't count as the Lions had called timeout prior to the kick. After the timeout, St. Germaine missed and the Lions had won the game 24-21 and Gwinnett had won the Classic over Cobb three games to one.
The dramatic sequence came after a wild fourth quarter netted a total of 24 combined points, including 17 by the Lions. The Indians led 14-7 going into the final quarter, but were undone by a questionable decision to go for it on fourth-and-three from the Ridge 42.
Quarterback Trent Thompson was hit while attempting to pitch the ball to tailback Zarold Wilder. The ball floated in mid-air before being grabbed by Tyler Botts and returned 58 yards for a Lion touchdown.
Ridge then took their first lead of the game on their next possession when signal-caller Billy Best dove over from the one for a touchdown to culminate a five-play drive.
The Lions now had their first lead of the game.
However, McEachern would tie it on the next play from scrimmage when Wilder - who finished with 164 yards on 25 carries - scored on a 73-yard touchdown jaunt.
But the Lions grabbed the momentum right back with a time-consuming 11-play, 68-yard drive that led to the eventual game-winning 29-yard field goal by Justin Watts.
With only 2:01 remaining in the game, the Indians drove to the Lions' 30 for the fateful field-goal sequence only to be undone by the timeout.
Tags: high school football, Corky Kell Classic, Peachtree Ridge, McEachern
Bottom Content