Section Branding
Header Content
Hall Co. Bucks Low Voter Trend
Primary Content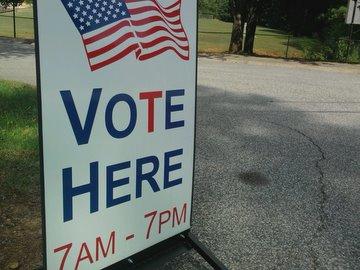 Voter turnout for Tuesday's runoff elections has been predicted to be as low as 7 percent, but that's not the trend so far in north Georgia's Hall County in the 9th Congressional district.
By 3 o'clock this afternoon, 10,689 people had cast votes.
That's nearly as many as in the primary election three weeks ago, when about 10,800 people had voted by 3 PM.
But high voter turnout in Hall County may be an exception since it was most recently represented in Congress by Republican gubernatorial candidate Nathan Deal, and there is a heated runoff for Deal's former House seat.
At stake in Tuesday's voting are Republican nominees for Governor, Attorney General, Insurance Commissioner, and the Public Service Commission.
Two Democrats are vying to run for Secretary of State. And four Republican slots are open in the run for U.S. House.
But Tom Crawford of the Georgia Report says while just over a million people voted in last month's primary, on Tuesday fewer than half that are likely to cast a ballot.
"That's always the way runoffs are," Crawford says. "There is a huge drop off in turnout. One reason of course being that Georgia holds its primary elections during the summer when people are out of town or not paying that much attention to politics."
Crawford expects only two areas of the state to buck that trend: north Georgia's 9th Congressional district, once represented by Republican gubernatorial candidate Nathan Deal, and north Atlanta's 7th Congressional district where Deal's runoff opponent Karen Handel had strong support in the primary.
Meanwhile in Albany and Dougherty County only 4.7 percent of voters had turned out by 4 pm. County officials say the majority of voters there in the general primary were Democrats. There is only one race on the ballot there for Democrats. It's the runoff for Secretary of State.
Tags: Georgia, Atlanta, politics, election, touch-screen voting machines, elections, polls, candidates, 2010 elections, primary run-off
Bottom Content