Section Branding
Header Content
Appeal In Episcopal Split Case
Primary Content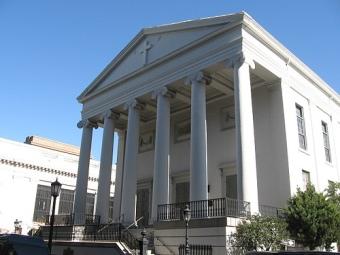 Members of Georgia's oldest Episcopal church are making one more appeal in their long-running fight to hang on to a church they believe is theirs.
Savannah's 277 year-old Christ Church broke off from its diocese over a raft of issues dividing Anglicans world-wide, including the ordination of gay priests.
Recently, a state appeals court ruled, church members had to give their historic building back to the diocese
Pastor Marc Robertson says, although church leaders are appealing to the state Supreme Court, they're also prepared to leave their sanctuary, which is worth millions of dollars and occupies a very prominent location downtown.
"The church is not brick and mortar. The church is people," Robertson says. "We may have an opportunity to live that out in a way that very few American congregations have a chance to experience."
Robertson says, church leaders are meeting with church members in small groups this month to prepare for what might come next.
"The Independent Presbyterian Church in Savannah, another old, historic downtown church has most graciously offered their facilities for us," Robertson says.
Eviction could come soon if the high court refuses to hear the case.
A lower court called the church's legal claims "absurd."
If a final ruling goes against the church, which is now more conservative, rival members of the church, who didn't agree to the break-away and are more liberal, will come back to their former church sanctuary.
They have been meeting at St. Michael and All Angels Church several miles away near Daffin Park and have been waiting to return to their old church home for almost three years.
The split was made formal in September of 2007.
Tags: Savannah, Christ Church Sanctuary, Anglican, gay bishops, GPB News, Episcopal Church, Marc Roberton, Independent Presbyterian Church
Bottom Content