Section Branding
Header Content
Minority Groups Join Voting Fight
Primary Content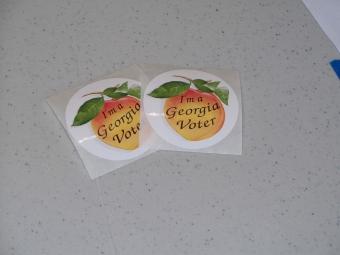 A coalition of civil right groups are now joining the U.S. Justice Department as defendants in a lawsuit brought on by the state of Georgia over a voter verification process.
The Georgia Association of Black Elected Officials, the NAACP, The Georgia Association of Latino Elected Officials and other civil rights groups got permission from a 3-judge panel in Washington D.C. to intervene in Georgia's lawsuit against the U.S. Justice Department.
The State's Republican leadership wants permission to use data to verify citizenship status of voters and require citizen checks when registering to vote. The U.S. Justice Department has twice rejected the idea and now Georgia is going through the courts.
Laughlin McDonald with the ACLU is representing the minority groups. He says the law would cut their voting strength.
"The State implemented this matching data base system and we found out that it was having an adverse impact on language and racial minorities," he sais
Georgia's Republican Secretary of state Brian Kemp argues that the data check is needed to prevent voter fraud. There's so far no evidence of non-citizens voting in Georgia elections. Officials don't expect the case to get a court hearing before the November elections.
Tags: Georgia, Atlanta, NAACP, federal court, elections, GALEO, Voter Varification, laughlin McDonald, Georgia Voing law
Bottom Content