Section Branding
Header Content
55-K Ready For Peachtree Road Race
Primary Content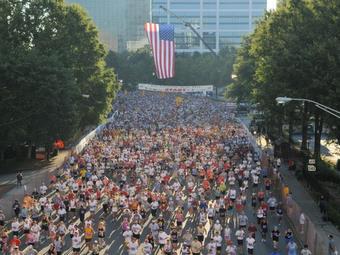 55,000 runners and walkers are set to continue an annual July 4th tradition in Atlanta. The 40th Peachtree Road Race is this weekend.
For many who participate, it's a tradition they wouldn't think of skipping. And for others, it may become a new personal tradition. Race organizers say more than 30 percent of this year's field will be first-timers.
With 55,000 participants, the Peachtree has been known as the largest 10-kilometer road race in the world since the late 1970's. But that honor is getting some competition from the annual Memorial Day race in Boulder, Colorado.
Peachtree race director Tracey Russell says Colorado's race is only a few thousand participants shy of matching Atlanta's race. She says it makes for a fun rivalry with the Colorado-race:
"Certainly something fun we like to embrace and Atlanta likes to embrace being the world's largest 10-K. Can't over-emphasize how important it is from a safety standpoint to make sure if we were to grow and add additional folks, is that we can handle the capacity...knowing that we do this on a warm morning on July 4th."
Russell says along with casual runners and walkers, this Sunday's race will have one of its deepest invited runner fields ever.
Tags: Georgia, Atlanta, tradition, Peachtree Road Race, running, July 4th, Atlanta Track Club
Bottom Content