Section Branding
Header Content
Baseball Taps Atlanta For Civil Rights Game
Primary Content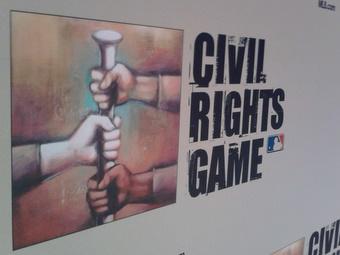 Major League Baseball has named Atlanta its next host for the game's annual tribute to civil rights.
The Atlanta Braves will host the Civil Rights Game next year and in 2012. Baseball began the event four seasons ago in Memphis. It then moved to Cincinnati the past two years.
The common thread--cities with key roles in the history of civil rights. Dignitaries on-hand for the Wednesday announcement say Atlanta was a natural choice.
Former Atlanta mayor, U.N. ambassador and civil rights lieutenant Andrew Young says baseball has been a leader in breaking barriers.
"It was baseball I think that gave this nation the concept that we could live together as brothers and sisters. And that's why I'm glad this game is coming here."
Baseball officials say the King Center and Carter Center in Atlanta reflect the city's deep civil rights history.
Braves' Hall of Famer Hank Aaron says the event also put a focus on African-American participation in baseball, which is now down to 9-percent.
"To be very honest with you I'm somewhat disappointed at the backtracking in which we see African-Americans playing baseball now. I think that they (Major League Baseball) can do better, and that's one of the things why this game is so important."
Aaron says the event reminds him of players who paved the way for him to achieve success in the game.
Tags: Georgia, Atlanta, baseball, Civil Rights, Andrew Young, Hank Aaron, major league baseball
Bottom Content