Section Branding
Header Content
Water War's 'Great Step Forward'
Primary Content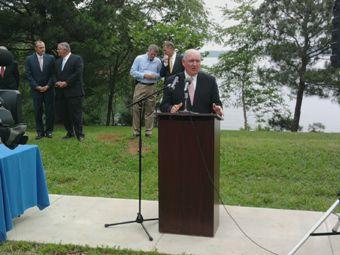 Governor Sonny Perdue signed legislation Tuesday meant to conserve water and to help resolve a legal dispute that
could cost metro Atlanta much of its water supply.
Perdue signed the legislation Tuesday along the shore of Lake Lanier, the reservoir at the heart of the three-state dispute.
"This will be the kind of policy that sets Georgia apart as doing the right thing for the long term for water resources for our state...for our region.", said Perdue.
The new rules would ban most outdoor watering from 10 a.m. to 4 p.m. New buildings would need high-efficiency toilets, shower heads and faucets.
Perdue said he is still negotiating with Florida Gov. Charlie Crist and Alabama Gov. Bob Riley over use of water from the lake. But he expressed disappointment that more progress hasn't been made since a productive meeting of the three governors in January in Alabama.
"I will not give up, I wish I could tell you confidently we will have an agreement…I can't do that right now, said Perdue. But I can tell you confidently we will continue to pursue an agreement until the very last day I'm in office."
A federal judge ruled last year that Atlanta has few rights to water from Lake Lanier. The decision gave Georgia, Alabama and Florida until 2012 to reach an agreement. Otherwise, metro Atlanta will see access to its main water source severely curtailed.
Contributors: Associated Press
Tags: Georgia, Florida, Alabama, Lake Lanier, water conservation, Governor Sonny Perdue, water wars
Bottom Content