Section Branding
Header Content
CRCT Testing Under Way
Primary Content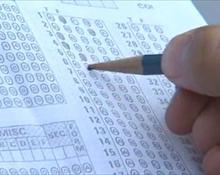 It's spring time in Georgia and for kids in grades one through eight it's also CRCT time.
Over the next four weeks more than a million kids in Georgia will take the Criterion Referenced Competency Test. The exam is supposed to measure how well students are learning in the classroom. It's also used to gauge a school's progress and get funding.
This time around 74 schools will be under intense scrutiny after a state audit found they had a suspicious number of erasure marks. Matt Cardoza is with the Georgia Department of Education which oversees the test.
"They will have an actual state monitor that's on site through the process for CRCT this year. So, their function will be to just over see the process and insure the integrity of the testing process."
Cardoza says the state monitors will follow the documents from the classroom to eventual shipping to the vendor for scoring.
Tags: CRCT, Georgia Department of Education, Matt Cardoza, Criterion Referenced Competency Test
Bottom Content