Section Branding
Header Content
Students Study on Spring Break
Primary Content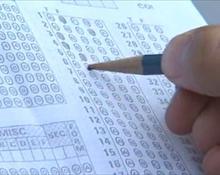 Students across Georgia are gearing up for their yearly standardized test, the CRCT, in April.
With the test closely following spring break for many students, schools are asking them to study for it while they're on vacation in an attempt to help them retain knowledge during the week.
Teachers are sending home study packets and practice tests, and referring kids to online games designed to help them prepare.
Sheila Cornelius, president of the Georgia PTA, says that study during the break could help. She says that it wouldn't have to involve much time, and that parents could find ways to make the learning fun.
"Georgia PTA's position is that family members should be engaged in the students' education and this is a great opportunity to do that by helping make sure that students are prepared," says Cornelius. "You can take opportunities to reinforce skills with the child without it being like school or sitting at the desk and being at school and being lectured to."
Educators, though, have long criticized the increasing pressure on students to succeed on the CRCT.
Schools have a lot at stake. They must show adequate performance and improvement on the tests, or face serious consequences.
Tags: Georgia, education, CRCT, Augusta, schools, georgia education, Georgia schools standardized tests, Georgia PTA
Bottom Content