Section Branding
Header Content
Handel Criticized For No Furloughs While Secretary Of State
Primary Content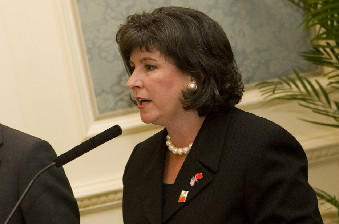 Former Secretary of State Karen Handel was called out today in a committee for not ordering furlough days for her department.
During negotiations over this year's state budget, House Appropriations Chair Ben Harbin pointed out that the secretary of state's office was the only one not showing furlough days. He did say that Former Secretary of State Karen Handel made other budget cuts instead, but now he says furloughs are a must for the department.
"We're asking these teachers.... they're being made to take furloughs. We have judged taking them voluntarily," he says. "When we have people sacrificing and we find a department that's not, we're going to implement furloughs on it."
Handel decided to cut her budget by 20 percent and laid off over 30 people instead of having furloughs. She says it's a better long-term solution. Handel quit her position in December to focus on her run for Governor. Her campaign says she's being called out by lawmakers as punishment for criticizing lawmakers on ethics.
Tags: Republican, General Assembly, Karen Handel, Secretary of State, state budget, furlough days, governor's race, Ben Hardin
Bottom Content