Section Branding
Header Content
Barnes Backs Fellow Democrat for ATL Mayor
Primary Content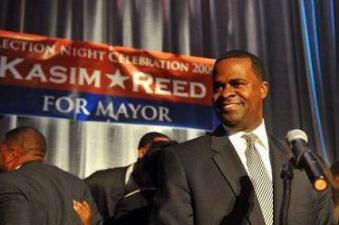 Former Governor Roy Barnes returned to the state capitol Thursday to endorse former Democratic State Senator Kasim Reed as the next mayor of Atlanta. Reed is in a runoff with City Councilwoman Mary Norwood, who says she is an Independent.
Standing on the walkway to the capitol, with the statue of Ku Klux Klan supporter and 19th century politician Thomas Watson looming behind them, Barnes and Reed were flanked by Atlanta Democrats, including State Senators Nan Orrock, Gloria Butler and former mayoral candidate Lisa Borders. To a crowd comprised mainly of lobbyists and media, Barnes announced his support of Reed.
He began by saying that during the past seven years, the city of Atlanta and the Georgia Legislature have had a frosty relationship.
"I don't understand it… How it is that a state can be at war with its own capital city. And I'm here to say, that there's only one person that can bring that capital city together with the state of Georgia," Barnes told the crowd.
Reed heartily accepted the former Governor's endorsement, saying he planned on restoring that relationship.
Party affiliation has become an issue during this non-partisan election runoff election, scheduled for December 1. Several prominent Democrats have endorsed Reed. They include former U.S. Senate candidate Jim Martin, outgoing Atlanta mayor Shirley Franklin and City Council President and former Mayoral candidate Lisa Borders.
Borders says her endorsement of Reed came after she met with both him and Norwood. Earlier in the campaign, Borders told GPB that her early endorsement of President Barack Obama would result in a political payday for the city as it sought federal help on Homeland Security issues.
"Endorsements matter," as she put it back then.
GPB asked if she was motivated by the political payback she might receive when she endorsed Reed.
"It's not a quid-pro quo," Borders told GPB. "I looked at who I thought could best manage the city, and in my mind, that's Kasim Reed."
The other Democrats at the event all gave similar answers when asked the motivation behind their endorsements. And all of the Democrats, including Barnes, say party politics didn't factor into their decision.
However, Atlanta is a heavily Democratic city, and many experts, including Emory Political Scientist Michael Owens, say Reed needs to both remind voters he is Democratic while portraying Norwood as a closet Republican.
Reed finished second in the November 3rd election with 37 percent of the vote. Norwood became the frontrunner with 46 percent.
Meanwhile, a Georgia Democratic Party spokesman says the party, including Barnes, and other statewide Democratic candidates, can't afford Atlanta not being led by a Democrat.
Atlanta is the largest base for Georgia Democrats and could be crucial for Barnes, who is trying to get his old job back in next year's gubernatorial elections.
Still, the former Governor told GPB he's not endorsing Reed with the hopes of utilizing political favors, or Atlanta's party machine, in 2009.
"The party machine system is dead," Barnes told GPB after the rally. "It's been headed that way for a long time, and it's not [a motivating factor for my endorsement]. I'm only out here because I support Kasim Reed…not because I expect something later," Barnes added.
A spokeswoman for Mary Norwood, meanwhile, issued a statement as the Democrats stood behind Reed at the Capitol. The front-runner dismissed the idea that the endorsements mattered and skipped a meeting with the press to discuss the endorsements. Instead, Norwood's spokeswoman says Norwood hit the trail to directly connect with voters.
Yet, under the angry fixed eyes of Thomas Watson, Barnes reminded Atlanta voters of his decision to scrap the old state flag that paid homage to the Confederacy. It was a popular decision among many in the city. Some analysts, like the AJC's Jim Galloway, suggest Barnes' popularity on that issue could help deliver Reed crucial black voters on Election Day.
That same decision to fly a new state flag, however, damaged Barnes' popularity in rural areas. Meaning he might just need some help from Reed getting Atlanta voters to the polls next year, for his own election.
Tags: Atlanta, Roy Barnes, Mary norwood, Kasim Reed, Shirley Franklin, Georgia Democratic Party, Atlanta Mayor, Jim Martin, Georgia Democrats, Runoff December 1
Bottom Content