Section Branding
Primary Content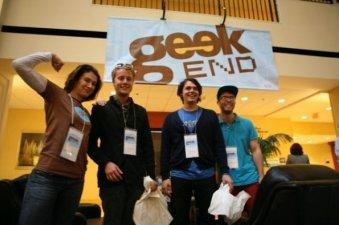 More than 600 self-proclaimed geeks gathered in Savannah this weekend for the city's first-ever Geekend.
On the surface, the gathering was an interactive media conference, not unlike many other conferences the city attracts.
There were speakers and workshops. Events focused on graphic design, software, web development, social media and video games.
But just below the surface lay an interesting question: What exactly defines a geek these days?
In an era when geeky technology is strapped on even the hippest hips, and when computers are just about as common as the telephone, are we all geeks?
I asked several Geekend participants. And here is a random sample.
You'll hear, in order:
--Joey Hasty, interactive creative director for Disney, an event speaker;
--Four conference participants, Ariel Janzen, Eric Schultz, Randy Makowcek and Ashe Bolinger; and
--Jake Hodesh, Geekend 2009 organizer.
Tags: technology, Savannah, Savannah College of Art and Design, Geekend, geeks, computers, design
Bottom Content