Section Branding
Header Content
Flourescent Red Dye Helps Ocean Scientists
Primary Content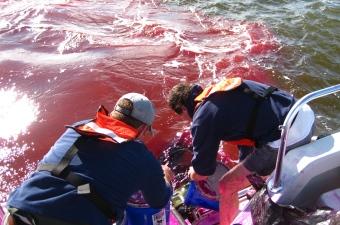 Scientists poured about 50 gallons of a fluorescent and non-toxic red dye into Altamaha River this weekend to study how much the river's nutrients and contaminants are reaching Gray's Reef National Marine Sanctuary.
Scientists say that they were surprised by how visible the red dye kept, even as far away as seven miles from the release location of uninhabited Wolf Island near Darien.
By looking at how far down and where the dye travels, the scientists, who represent Georgia Southern Univeristy and Gray's Reef National Marine Sanctuary, hope to become smarter about how onshore activities effect offshore sea life.
The scientists could have tracked the dye farther, but rough seas forced them back to shore seven-hours into the experiment.
They were pleased the dye didn't sink. The fluorescent coloring dispersed evenly in the water column.
Gray's Reef National Marine Sanctuary is about 17 miles off Georgia's coast and is a federally-protected natural treasure.
Onshore nutrients and contaminants affect the reef, but it's not well understood exactly how.
Scientists hope to make another offshore trip to track the dye with flourometers on Friday.
It's the first time such dye tracking has taken place near Gray's Reef.
Corrections: An earlier version of this article stated that Gray's Reef NMS was 90 miles offshore. It is 17 miles offshore.
Tags: science, environment, Altamaha River, oceans, Gray's Reef, National Marine Sanctuary
Bottom Content