Section Branding
Header Content
Obama Calls Perdue, Flood Problems Persist
Primary Content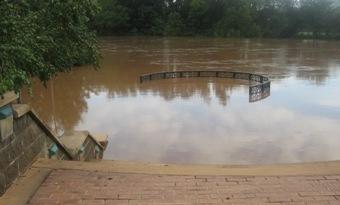 President Barack Obama says Georgia's request for federal disaster aid will receive his prompt attention.
A spokesman for the President says Obama called Governor Sonny Perdue Tuesday night to express his condolences and concern for residents affected by massive flooding.
Perdue has requested more than $16 million in aid, covering everything from emergency help for individuals and equipment for cleanup.
Across north Georgia, the storm cleanup and damage assessment continues from torrential rains earlier in the week. Georgia insurance officials on Tuesday put early damage estimates at $250 million.
The latest updates:
Roads/bridges — Numerous roads and bridges remain closed.
The latest report from the Georgia Emergency Management Agency this morning shows 12 bridges and seven state roads closed — most in the metro Atlanta area. Earlier this morning, a portion of Interstate-20 west of Atlanta was still flooded from the waters of Sweetwater Creek.
Among the worst-hit areas are Carroll, Douglas and Paulding counties.
Flood deaths — Officials have confirmed nine people have lost their lives due to the flooding — six in Douglas County, one in Carroll County, one in Chattooga County and one in Gwinnett County.
Schools — Five school districts remained closed on Wednesday: Cobb, Douglas, Chattooga, Paulding, and Newton.
Reservoirs — Water levels at Lake Lanier are rising. The lake is Atlanta's main source of water but in recent years its water levels were depleted. The U.S. Army Corps of Engineers says it expects water levels at the lake to exceed 1,068 feet by Saturday. The lake is full at 1,071 feet.
Middle Georgia concerns — GEMA officials say the Oconee River near Dublin is rising, and should crest at flood stage early Sunday. The Ocmulgee River near Macon is currently at flood stage and rising to crest early Thursday morning.
Meanwhile, heavy rains and flooding left about 150 homes in rural Crawford County without water. The area about 10 miles southwest of Macon was without running water on Tuesday, five days after floodwaters caused a large water pipe to burst.
Flood economic impact — Emin Hajiyev, assistant director of the Economic Forecasting Center at Georgia State University, says the impact is likely to be very bad.
"We know that the fiscal situation in the state of Georgia is not in very good shape and this flood will put in another dent in the state economy in terms of the monetary damage and infrastructure damage."
Flood insurance — People without flood insurance may be out of luck.
"Whether or not people get financial aid from the government is totally dependent on whether that request for federal disaster declaration is approved or not," says Ken Davis, spokesperson with GEMA.
Governor Perdue says Georgia does not have any money in its depleted budget to assist them, but he adds that the state will do everything it can to help all Georgia citizens.
Tags: Georgia, Metro Atlanta, Douglas County, Atlanta, president, governor, Cobb County, Sonny Perdue, roads, death, Macon, Barack Obama, Governor Sonny Perdue, north Georgia, flooding, insurance, Crawford County, President Barack Obama, Paulding County, Carroll County, GEMA, Georgia flooding, FEMA, deaths, Atlanta flooding, Atlanta floods, storm cleanup, bridges, Georgia floods, storm
Bottom Content