Section Branding
Header Content
Early County Coal Plant Project Could Be Sold
Primary Content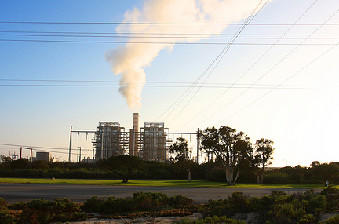 The proposed coal fired power plant in Early County is still searching for utility companies to purchase the power.
GPB has learned New Jersey-based LS Power may also be looking for another company to buy the plant outright.
The past several years, LS Power has tried to lure utility customers, including the city of Tallahassee, but has yet to secure a single contract. That's according to Michael Vogt. The Longleaf spokesman says the company may end up selling the project if key permits are renewed by state officials.
"Sometimes facilities like this are sold to other folks to build and own operate it. We could potentially sell it too."
Vogt says the company could also build and operate the plant. Those remarks were made to GPB during a public hearing in Blakely, as the company sought to renew an air quality permit.
State officials say they will not consider who is - or isn't - buying the electricity generated by the plant, or whether it could change ownership, when deciding whether to renew the permits.
Tags: Southwest Georgia, Early County, coal plant, Blakely, LS Power
Bottom Content